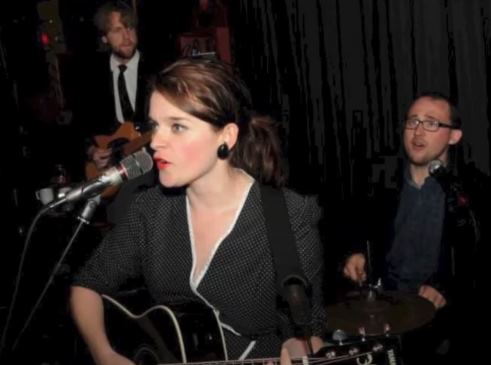 Sophie Caroline & the Ra-Ra-Coons! har eksisteret siden 2009 og har siden da specialiseret sig i at spille musik fra 50'erne og 60'erne – med fokus på den tidlige Rock'n'Roll musik, country og rockabilly. Genrer, som var med til at grundlægge rockmusikken, som vi kender den i dag.

Bandet blev oprindelig startet som en duo bestående af Martin Lau og Sofie Karoline – dengang studerende på Syddansk Musikkonservatorium – med intentionen om at lære at spille den musik, de havde hørt i deres barndomshjem. Det viste sig at være rigtig sjovt at spille, så duoen fortsatte i samme retning og har også sidenhen tilføjet flere musikere til bandet.

Repertoiret afspejler musikkens vej fra country med sange af blandt andre Johnny Cash, Hank Williams og Patsy Cline, og direkte videre over i rockabilly og tidlig rock generelt med blandt andre Buddy Holly, Chuck Berry og Jerry Lee Lewis. Dertil rummer repertoiret også numre fra forskellige amerikanske pigegrupper som The Shirelles, The Crystals og The Ronettes, som sammen med country og den tidlige rock leder over i 60'erne, hvor engelske bands som The Beatles, The Kinks og The Shadows vandt frem parallelt med bands som The Beach Boys på den anden side af Atlanten.

Om musikken siger musikerne selv:

"Når vi spiller, er det vigtigt for os at have respekt for musikken og den måde den blev opført på. Det betyder noget for os at spille med et udtryk, som er autentisk med genren uden at være en direkte kopi af originalen."

Repertoire
Her er et udpluk af de sange, som Ra-Ra-Coons spiller.

Beatles: From Me To You, Ain't She Sweet, Please, Please Me, I Saw Her Standing There, She Loves You/Sie Liebt Dich, This Boy, Ticket To Ride, I Feel Fine, And I Love Her, Help, I Don't Wanna Spoil the Party, I Need You, Eight Days A Week, I Wanna Hold Your Hand, A Hard Days Night, I Should Have Known Better, Baby It's You – Beatles version, I'm Looking Through You, Run For Your Life, Like Dreamers Do.

Buddy Holly: Peggy Sue, Everyday, Peggy Sue Got Married, It's So Easy, Heartbeat, It Doesn't Matter Anymore, Love's Made A Fool, Oh Boy!, That'll Be the Day.

Beach Boys: Darlin', Little Honda, Help Me Ronda, Dance, Dance, Dance, Surfin' USA, Surfer Girl, I Get Around.

Johnny Cash: I Walk The Line, Ring Of Fire, Folsom Prison Blues.

Hank Williams: Hey Good Looking, Lovesick Blues, Rootie Tootie.

Roy Orbison: In Dreams, You Got It, Pretty Woman.

Andre: Stand By Me – Ben E. King, Have You Ever Seen The Rain? – CCR, House Of Rising Sun – Animals' version '64, Do You Love Me? – The Contours -, Rama Lama Ding Dong – The Edsels, Johnny B. Goode – Chuck Berry, Great Balls Of Fire – Jerry Lee Lewis, I'm A Believer – Monkees, Sunny Afternoon – Kinks, Dumb Blonde – Dolly Parton, Will You Love Me Tomorrow – The Shirelles, Wonderful World – Sam Cooke, Blue Moon – The Marcels version '61, Who Put The Bomb – Barry Mann.