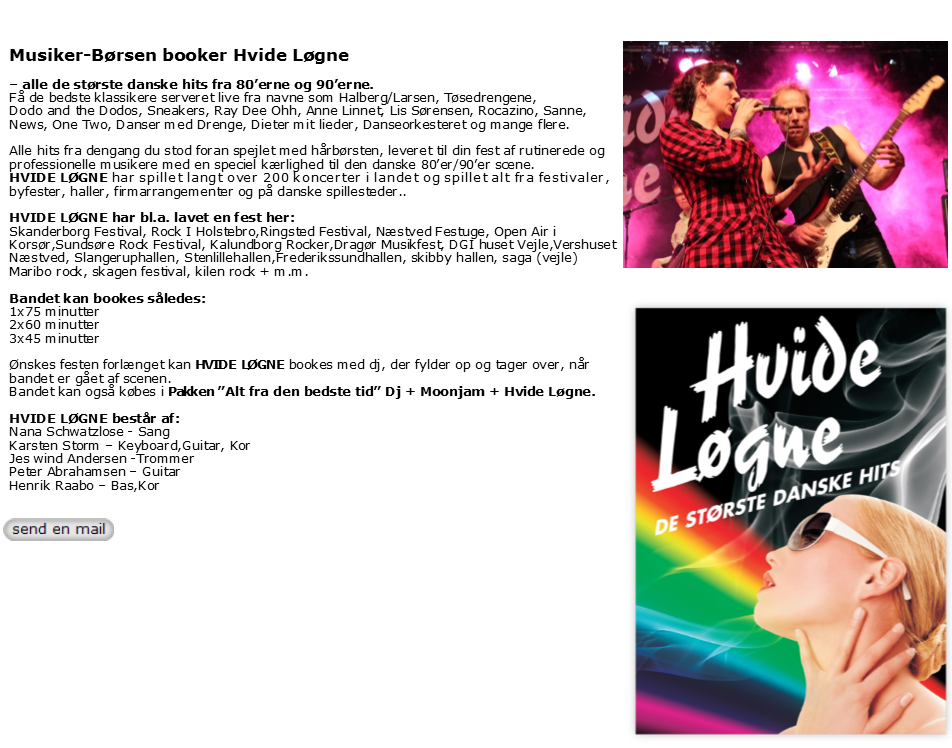 >Hvide Løgne<
- All major Danish hits from the 80s and 90s.
Get the best classics served live from names like Halberg / Larsen, Tøsedrengene , Dodo and the Dodos , Sneakers, Ray Dee Ohh , Anne Linnet , Lis Sorensen, Rocazino , Sanne , News, One Two , Dances with Boys , Dieter my lieder , Dance Orchestra and many more.
All hits from the days when you stood in front of the mirror with a hairbrush , delivered to your party of experienced and professional musicians with a special love for the Danish 80s / 90s scene.
Hvide Løgne has played more than 200 concerts in the country and played everything from festivals, fairs , halls, firmarrangementer and the Danish venues ..
Hvide Løgne have , inter alia, made a feast here:
Skanderborg Festival , Rock In Holstebro , Ringsted Festival , Næstved Festival , Open Air in Korsor , Sundsøre Rock Festival , Kalundborg Rocker , Dragør Music Fest, DGI Vejle, Vershuset Næstved, Slangerup Hall Stenlille Hall , Frederikssund Hall skibby hall saga ( supervisor ) Maribo rock cake festival wedge rock + etc.
The Band can be booked as follows:
1x75 minutes
2x60 minutes
3x45 minutes
If you want the party extended Hvide Løgne can be booked with DJs that are up and takes over when the band has gone on the scene ..
The band can also be purchased in package " Everything from the best time " Dj + Moonjam + Hvide Løgne.
Hvide Løgne consists of :
Nana Schwatzlose - Song
Karsten Storm - Keyboard, Guitar, Choir
Jes wind Andersen Drums
Peter Abrahamsen - Guitar
Henrik Raabo - Bass , Chorus

Relateret band
Back to the 80s - Charlotte Vigel
Denne side er oprettet den 10. december 2013, kl. 20:48:36