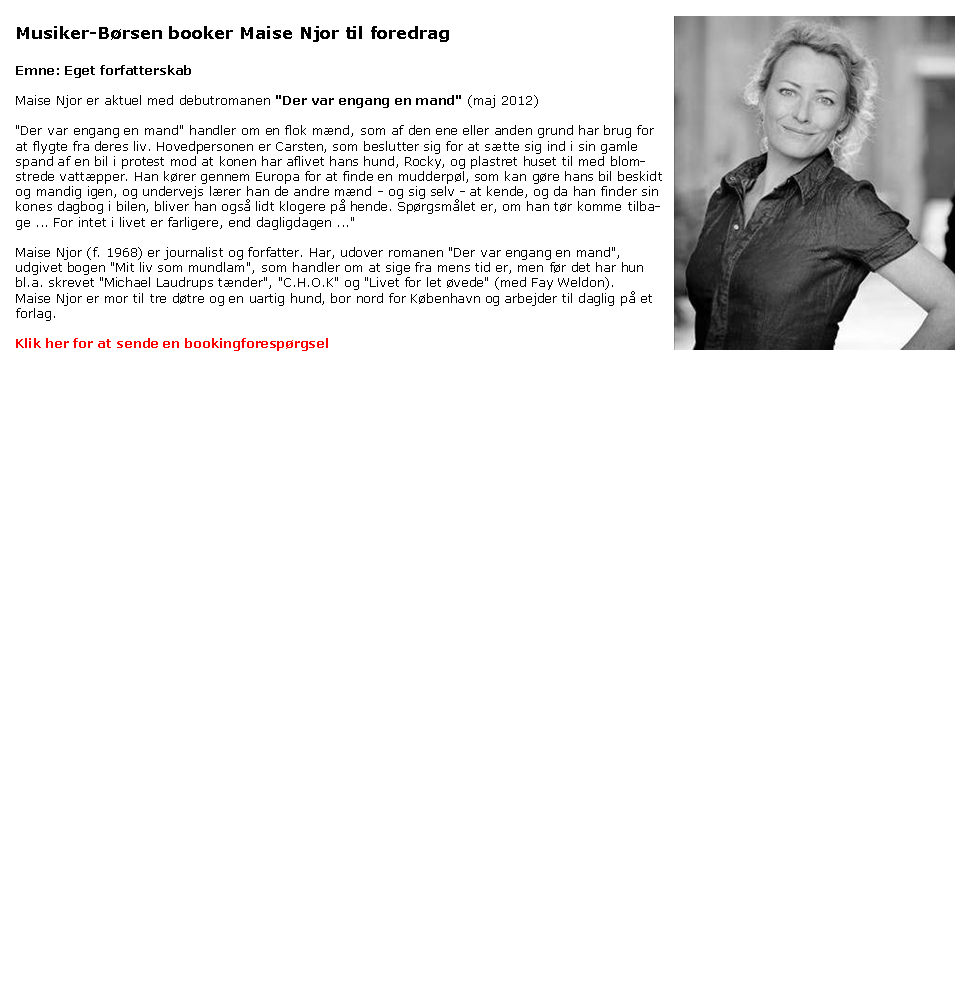 >Maise Njor - foredrag - ej mundlam forfatter<
Journalist and author Maise Njor has set herself nothing : she will no longer be walked on without speaking clearly from .
But how do you learn to say no when , as Maise Njor , is 43 and has always been the one who winced in conflict ?
Man seeking help and write simultaneously book " My Life as a tongue-tied ," so we have also become wiser along the way when Maise Njor generously shares his problems to professionals and people with A...pants.
And Maise Njor has actually made an impressive piece of research about where to get help depending on the situation , as she is in the book " My Life as a tongue-tied " has written fifteen chapters . It is situations with girlfriends , boyfriends , in-law , bosses , co-workers , clerks, dog walkers , grumpy old people , drivers , taxi drivers , hairdressers, strange men , artisans , the other end of the tube and yes, one yourself.
Some problems in other words , but fortunately there are as many solutions from a wide range of experts , some of them psychotherapists and psychologists .
Fortunately avoid Maise Njor to write a sensitive diary about his course of therapy , but also mixes other interviews than those with the professional pastors of souls into the case. It's conversations with outspoken people like journalist Trine Gregorius , actor Hella Joof and politician Margaret Vestager .
But also quite "ordinary" people are in the book " My Life as a tongue-tied " with qualified substantial input taken from their work . For example, the taxi driver who put sour people of the middle of a drive , and the receptionist that lets people screaming and afterwards kindly asks: And what is it that you would like me to help you ? It sounds like a bit of a bread Maise Njor slamming together in a book on small 190 pages but in fact the book is well thought out , and find as many of the possible situations in which we humans go awry each other, and which one (and often the same) party must bend your neck and go home and swearing to himself. The problem with the confrontational nature is indeed that it is rarely only applies in one situation , but in most conflicts , and so should not be a therapist to figure out that it's not good for anyone in the long run.
Therapy sounds like bitter tears and sweat , and it is perhaps also as a price for change, but Maise Njors strength as a writer and journalist lies precisely in the fact that she is quite enjoyable thoughtful to write about black issues without the reader feel that this constitutes emotionalism or clean thoughts on sale in the popular self-fulfillment genre.
Maise Njors books look like girly books inside out , and the book " My Life as a tongue-tied " will probably also preferably be given by friends of friends, because social games now even some women spend a lot of energy to engage in. Thus, there is only few men who speak in the book " My Life as a tongue-tied " and does not even appear to spend their nights in losing sleep and think, why did not I just ... ?
Relaterede kunstnere:
Palle Pirat Duoshow . :.Postmand Per.: Musiker-Børsen ApS . Sebastians skøre Safarishow - Sebastian Klein . Sigurds Bjørnetime - Bjørnen Bjørn . Hawkeye and Hoe: Booking . Peter Abrahamsen & Bell Pepper Boys . Rattlesnakes - Booking