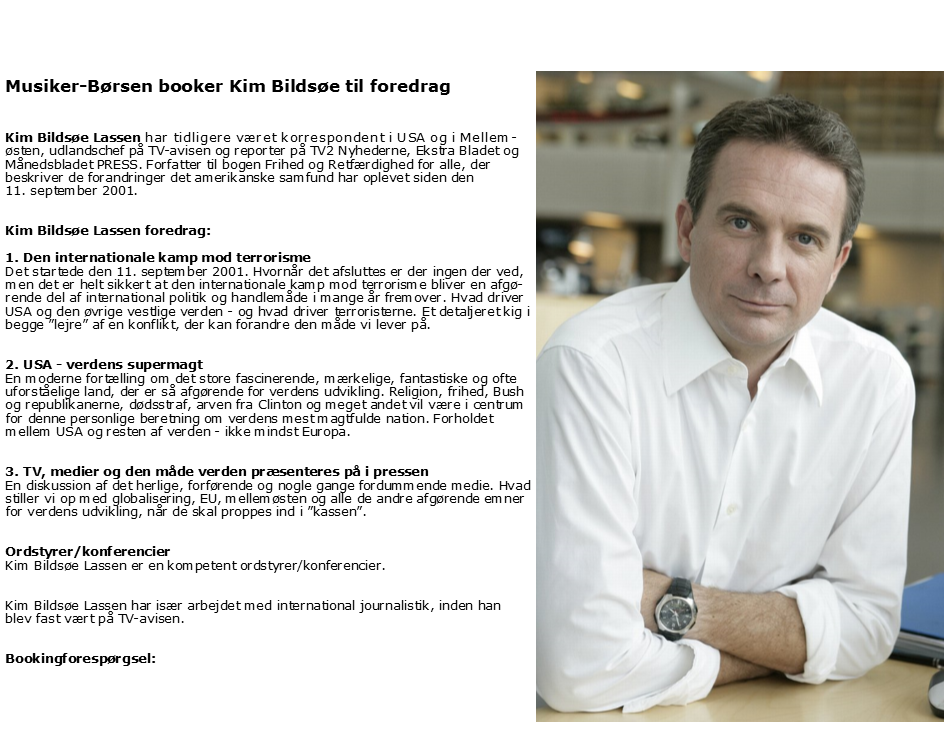 >Kim Bildsøe<
Hear DR star reporter and news anchor Kim Bildsøe interesting lecture about the U.S. superpower .
Kim Bildsøe talks about the fascinating and strange country that is so vital to the world's development. Religion , freedom, Republicans, death , the legacy of Bush and many others will be at the center of this personal account and view on the world's most powerful nation .
Kim Bildsøe also looks at the relationship between the United States and around the world , and especially Europe, and the last U.S. presidential election

Other talks with Kim Bildsøe:

The international fight against terrorism
It started on 11 September 2001. When it ends , no one knows, but it is certainly that the international fight against terrorism will be a crucial part of international policy and action in the years to come. What is driving the U.S. and the rest of the Western world - and what drives terrorists. A detailed look at both " camps " of a conflict that can change the way we live.
TV , media and the way the world is presented in the press
A discussion of the glorious , seductive and sometimes stupidity media . What do we do with globalization , EU, Middle East and all the other essential subjects for world development, when they are plugged into the " box " .
Kim Bildsøe may also be involved as moderator and master of ceremonies .
Since the DR in September 2012 launched a new concept for TV news , this meant among other things that one host should be the primary face both at . 19 and 21:30. It was no surprise that they gambled on Kim Bildsøe.
He is known as a quiet host and moderator, with precise timing manages to radiate a lot of credibility and insight. Since 2006 he has been the host at DR , first on foreign magazine Horizon and since 2007 on the television news , and he was a natural choice as head of DR's coverage of the recent election incl. the election night 15 September 2011.
His career started at the Danish School of Journalism . Subsequently , he was a journalist at the monthly magazine PRESS who was known for his critical journalism. Then went way past Ekstra Bladet , TV2 and Information , where he was a correspondent in the Middle East until in 1998 he was employed in the DR , where he was abroad head and deputy head of TV Magazine .
Kim Bildsøe was the U.S. correspondent for DR shortly before the attack 11 September 2001. The experience frightened the veteran journalist who later reflected on the events and said that he briefly feared a new world war . The following year , he published the book " Liberty and justice for all ', in which he interviewed 27 Americans on their perceptions of the United States before and after the attack.
The very fact that Kim Bildsøe is an experienced and ambitious journalist , some to forget when they talk about him. That, at least, his friend and colleague , Ask Rostrup .
"There has been a tendency to think that presenters just a nice face on the news. But Kim is first and foremost presenter because he is an accomplished journalist. He can think stories he 's curious, he demands proof , and he is crazy ambitious , "says Rostrup , who also says that he has taught him much about how TV medium works.
Alongside his career as a journalist has Kim Bildsøe always been an active sportsman.
"He 's very competitive in everything he does ," says Ash Rostrup and badminton player led winning mentality that Kim came ungdomslandsholdet before he devoted himself to journalism . Today, the golf and skiing that concerns him most outside work , and he is chairman of The Scandinavian Golf Club in Farum.
Kim Bildsøe is divorced , has two children and lives in Copenhagen .
Relaterede kunstnere:
Benny Holst - superligaen af danske sangskrivere . Dræsinebanden: 20 år på dræsinen . Erik Grip:: Folke- og visesanger - traoubadur - komponist . ::Irsk aften - drukviser - rebelsange:: . 0 Lasse og Mathilde: Demokratisk fordeling af det vokale arbejde . Povl Dissing:: 0220.322 En særlig visefortolker . Rendestenens Liljer fortolker gårdens - gadens - værtshusenes og de rejsendes musik