>Anne Dorte Michelsen - tøsedrengesanger<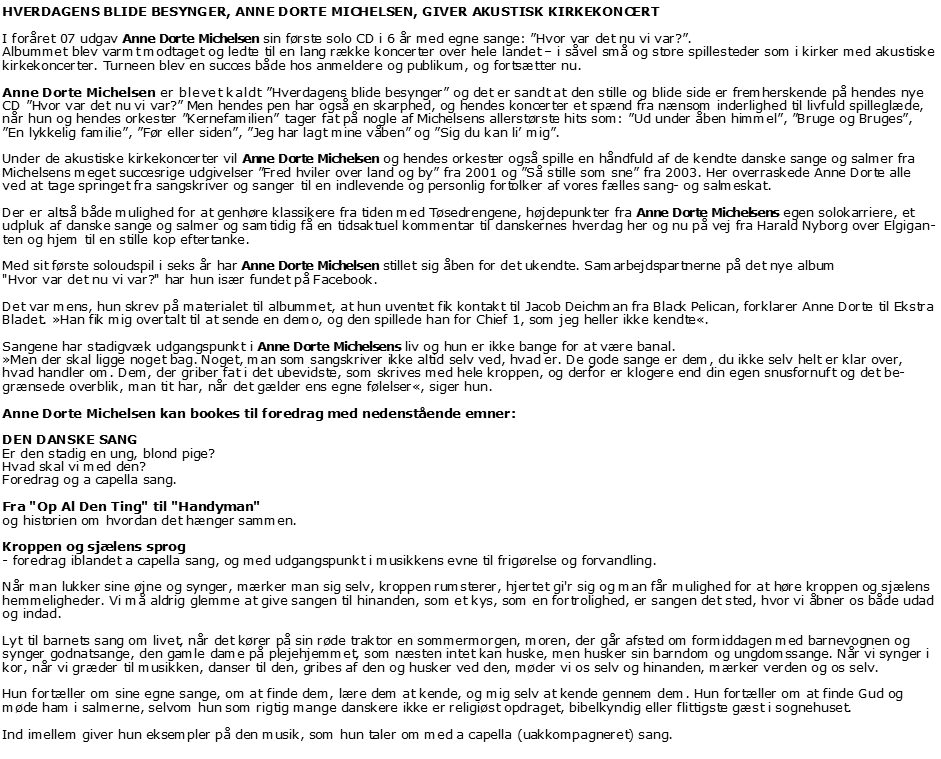 Startsiden
Artister
Børneaktiviteter
Børneunderholdning
Country
Danseorkestre
Danseundervisning
Diskoteker
Duo musikere
Folkemusik og viser
Foredrag
Gospel
Jazz
Klassisk musik
Komikere
Konferencier
Kopibands
Musikere søges
Partybands
Receptionsmusik
Rock og Blues
Seniorunderholdning
Serveringsteater
Solister
Solo musikere
Street Parade
Tryllekunstnere

EVERYDAY GENTLE sings , Anne Dorte Michelsen, GIVES ACOUSTIC church concert.
In the spring of 07 published Anne Dorte Michelsen her first solo CD for 6 years with own songs , "Where was it we were ? " .
The album was warmly received and led to a long series of concerts across the country - both small and large venues like churches with acoustic church concerts . The tour was a success with both critics and audiences , and continues now.
Anne Dorte Michelsen has been called "Everyday gentle sings " and it is true that the quiet and gentle side prevails on her new CD "Where was it we were ? " But her pen also has a sharpness, and her concerts ranging from gentle fervor of lively joy when she and her band " nuclear family " addresses some of Michelangelo 's greatest hits such as : "Out in the open air ", " Use and Use ," " A happy family ", " Sooner or later ", " I put my arms "and" Say you Like me " .
During the acoustic church concerts will Anne Dorte Michelsen and her band also play a handful of the famous Danish songs and hymns from Michel 's highly successful releases "Peace rests over the country and city " in 2001 and " As quiet as snow " from 2003. Here surprised Anne Dorte all by taking the leap from songwriter and singer for an empathetic and personal interpreter of our common song and hymn tax.
So there is both the opportunity to re-consult the classics from the days of Tøsedrengene , highlights from Anne Dorte Michelsen's own solo career , a selection of Danish songs and hymns while getting a fixed current comment to Danish daily life here and now headed by Harald Nyborg Elgiganten and home for a quiet cup of thought.
With her first solo album in six years, Anne Dorte Michelsen made ​​herself open to the unknown. The collaborators on the new album
"Where was it we were ? " She especially found on Facebook .
It was while she wrote the material for the album, she unexpectedly made ​​contact with Jacob Deichman from Black Pelican, explains Anne Dorte Ekstra Bladet. "He persuaded me to send a demo , and he played the chief one , as I do not know ."
The songs are still based on Anne Dorte Michelsen's life and she is not afraid to be trite .
"But there must be a reason . Something you as a songwriter do not always know what is. The good songs are the ones you do not quite realize what is all about . Those who grabs the unconscious, which is written in the body and therefore are wiser than your own common sense and the limited view , you often have when it comes to one's own feelings , "she says .
Anne Dorte Michelsen can be booked for lectures with the following topics:
THE DANISH SONG
Is it still a young blond girl ?
Why do we need it?
Lectures and a cappella singing.
From " Up All The Things " to " Handyman "
and the story of how it relates .
The body and the soul's language
- Lectures mixed a cappella singing, and based on the music's ability to liberation and transformation.
When one closes his eyes and sings, you can feel himself turning over the body , the heart goes by and you get the opportunity to hear the body and the soul's secrets. We must never forget to give the song to each other as a wink to a confidentiality , the song is the place where we open up both outwards and inwards.
Listen to the child's song about life when it's running on his red tractor on a summer morning , the mother who goes off in the morning with the pram and singing lullabies , the old lady in the nursing home , almost nothing can remember, but remembers his childhood and youth songs. When we sing in unison when we cry to the music, dance to it, grasped it and remember about it, we meet ourselves and each other , marks the world and ourselves .
She tells of her own songs , to find them , get to know them and myself to know through them. She talks about finding God and meet him in the Psalms , though she as many Danes are not religiously educated , Bible expert or prolific guest in the parish house.
In between , she gives examples of the music that she talks about with a cappella ( unaccompanied ) singing.
Anne Dorte Michelsen - born 1958, singer and songwriter.
In Denmark , she is primarily known for its stake in Tøsedrengene , Waiting for the Father and for his solo career . Abroad selling album Next Dance well in Norway , Sweden and Japan. The song Confidentiality was the title song in a Japanese television series . Is also known as a journalist, commentator , TV reviewer and columnist for several of the country's newspapers . Contributor to several anthologies. From 2007, also review the magazine Femina . Since 1996 married to actor Carsten Kressner with whom she has 2 children.
Discography with Tøsedrengene
Time stands still (1981)
3 (1982)
All our hopes (1983)
Time is clever (1984)
Take care of your blue eyes (single, 1985)
In Safe Hands (1985)
Complete ( collection ) (2006 )
Solar Charger :
Between You and Me (1983)
Next Dance ( 1986)
Everything Returns (1987)
Mistress Garden ( 1989)
The Wordless Time (1990)
My Career As a Woman (1992)
The Store & The Quiet ( collection ) (1998)
Dark Waters - Light Beaches ( 2000)
Peace, or town and country (2002)
As Quiet As Snow (2003)
Where was it we were ? (2007)
with Waiting for Dad:
Vupti (1994)
Sorry (1999)
You have the eternal law ( 2004)
Other releases:
When the angels love (single) - title song for the film of 1985
Africa ( Single 1985)
Animals in Hoe Hill Forest ( 1990)
Oh monkey (1993)
Pa - Parrot (1994)
Tangokat (1995)
Hemli Helicopter (1997)
Nissekys and stardust (1998)
Bjarne in the yellow jersey (Single 1997)
The largest is small - songs for Anchor (2007)
Other:
This year's revue composer 1999
Relaterede kunstnere:
Lune Carlsen - Baggårdskatten: . 0339.061:: Sigurd Barrett - Dansk Piano Show - underholdning i international klasse . Simone Egeriis - livekoncerter - 05042010131358 . Stig Rossen: 006.139 . Swing Sisters:: 3 girls - livsbekræftende musik - Swingsisters - 0341.06125 . 0343.06: Tina Siel - Nordjysk sanglærke
Relaterede emner