>Georg Metz<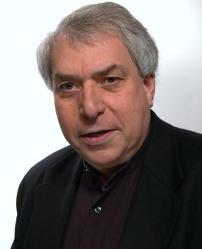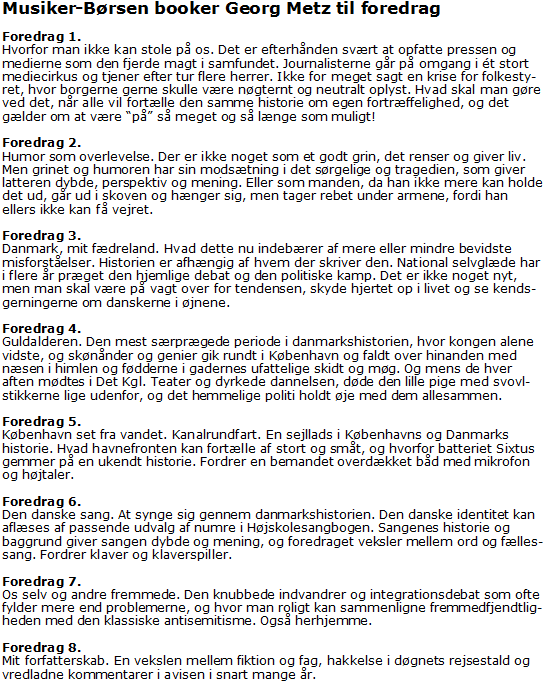 Lectures 1. Georg Metz Why you can not trust us. It is now difficult to perceive the press and the media as the fourth power in society. The journalists rotates in one big media circus and serves in turn several gentlemen. Not too much to say a crisis of democracy, where citizens like skuile ​​be sober and neutral property. What to do about it, when will all tell the same story about the superiority and it comes to be "on" as much and as long as possible!

Lecture 2. Humor as Survival. There's nothing like a good laugh, it cleans and gives life. But laughing and humor has its opposite in the sad and the tragedy that gives laughter depth, perspective and meaning. Or as the man, when he can no longer stand it, go out into the forest and hangs himself, but takes the rope under the arms, because otherwise he can not breathe.

Lecture 3. Georg Metz Denmark, my fatherland. What this now means the more or less conscious misunderstandings. The story depends on who is writing it. National smugness has for years dominated the domestic debate and the political struggle. It is nothing new, but one must be wary of the trend, shooting up the heart of life and see the facts on the Danes in the eyes.

Lecture 4. Golden Age. The most distinctive period in the history of Denmark, where the king alone knew and luminaries and geniuses went around in Copenhagen and fell over each other with the nose in the sky and feet in the streets unimaginable filth and rubbish. And while each evening met at the Royal. Theatre and cultivated formation, died The Little Match Girl just outside, and the secret police kept an eye on them all.

Lecture 5. Georg Metz Copenhagen seen from the water. Channel Around Speed. A sailing in Københanvs and Denmark's history. What waterfront can tell of great and small, and why the battery Sixtus hides an unknown historie.Fordrer a manned covered boat with microphone and speaker.

Lecture 6. Georg Metz The Danish song. Singing through the history of Denmark. The Danish identity can be read by appropriate selection of tracks in the folk high school. Song's history and background gives the song depth and meaning, and the lecture alternates between words and singalong. Requires piano and piano playing.

Lecture 7. Ourselves and other strangers. On a rating immigration and integration debate often takes up more than problems, and where you can safely compare xenophobia with the classic anti-Semitism. Also herhjeme.

Lecture 8. My writings. An alternation between fiction and subjects chaff in diurnal travel barn and irascible comments from the newspaper for many years.
Relaterede kuntsnere
Robbie Williams Jam: Ditlev Ulriksen . RubberBand: Biografi . ::Schmidt og Co:: . 075.951 Starpeople: Rasmus Fjeldsted . 0353.07 The Hitmen: . Le Freak: Happy disco - 0536.121 . 079.753 The Party: DK's fedeste coverband . Thomas Helmig Jam: 4 wuznip'e . Bakkesangerinder:: Bakkens Hvile . BaSix: a capella musik i international klasse
Startsiden
Artister
Børneaktiviteter
Børneunderholdning
Country
Danseorkestre
Danseundervisning
Diskoteker
Duo musikere
Folkemusik og viser
Foredrag
Gospel
Jazz
Klassisk musik
Komikere
Konferencier
Kopibands
Musikere søges
Opera
Partybands
Receptionsmusik
Rock og Blues
Seniorunderholdning
Serveringsteater
Solister
Solo musikere
Street Parade
Tryllekunstnere