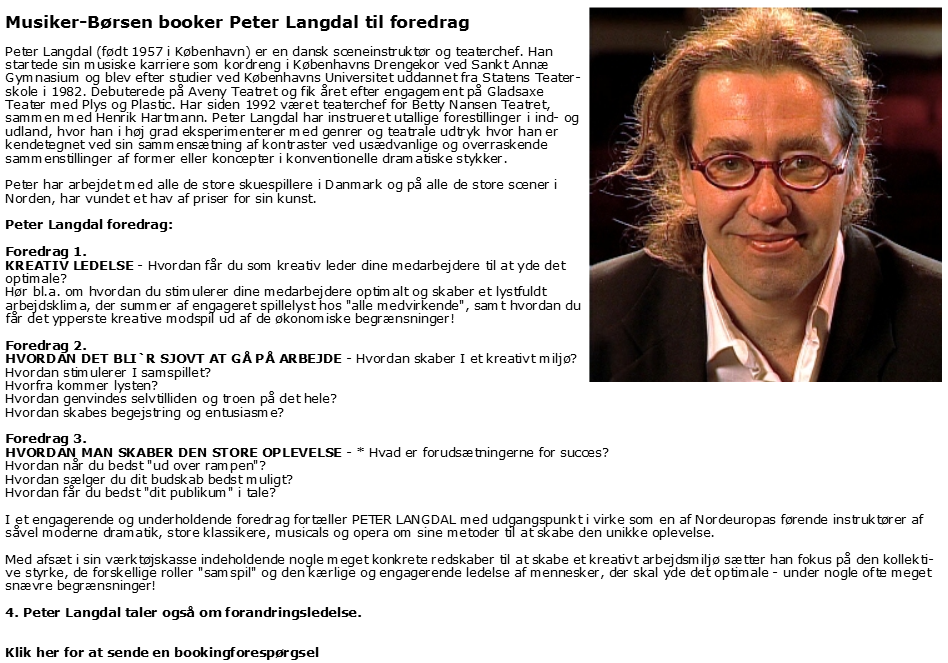 >Peter Langdal - engageret - teamwork<
Peter Langdal is Stage director and theater manager
PETER Langdal is finally ready with Moliere's Misanthrope on its own theater with Githa Nørby and Bodil Udsen in the lead roles and SUMMER GUESTS including Sofie Gråbøl , Trine Dyrholm and Nikolai Li Kaas . This winter he in Forum create an amazing musical version of THE ONE AND ONLY and next season waiting for a few splendor - productions in the Royal Theatre's new opera house in Copenhagen . Recipient of the Danish Theatre Journalists price theater Cup (2004) .
PETER Langdal has worked on all the major scenes in the Nordic region , has won a host of awards for his work in theater arts and has for the last 12 years along with Henrik Hartmann been an extremely dynamic theater manager in Scandinavia , probably the most trendsetting Theatre : BETTY NANSEN THEATRE , which incidentally has just returned from a unique world tour with Tom Waits and Robert Wilson's illustrious Woyzeck -show.
Peter Langdal lectures on the following topics:
CREATIVE MANAGEMENT :
* How do you get as creative leader your employees to perform well ?
Hear how to stimulate your employees optimally and create a bright fully working , buzzing engaged gambling with " all contributing" , and how to get the ultimate creative opponent out of the financial constraints !
HOW IT Becoms FUN TO GO TO WORK:
* How do you create a creative environment ?
How stimulates the interaction ?
Where does the desire ?
How regained self-confidence and faith in everything?
How to create excitement and enthusiasm ?
HOW TO BUILD THE GREAT EXPERIENCE :
* What are the prerequisites for success ?
How do you best " off the ground " ?
How do you sell your message best ?
How do you get the best " your audience " in the speech?
In an engaging and entertaining lectures tells PETER Langdal based on his almost 25 years of work as one of Northern Europe's leading instructors of both modern drama , classics , musicals and opera on its methods to create a unique experience.
Based on his toolbox containing some very specific tools to create a creative work he focuses on the collective strength of the different roles of "interaction" and the loving and engaging people management to perform well - in some often very narrow restrictions!
Peter Langdal : Stage director , theater manager
Born: 24/3 1957 in Copenhagen
Son of hairdresser champion Svein Langdal and wife correspondent Lili L. f Kesselhahn
Background: Student (Saint Annæ Gymn . ) 1976;
Studies at Cph Univ 1976-78 ;
National Theatre School , Copenhagen 1978-82 ;
director of the Betty Nansen Theatre (sm Henrik Hartmann ) of 1992 and founder of Edison (sm Henrik Hartmann ) .
Peter Langdal inter alia staged :
Plush and Plastic
( Gladsaxe Theatre, 1983)
Erasmus
( Betty Nansen Theatre , 1984)
robbers
( Gladsaxe Theatre, 1985)
The White Dog
( Winn Theatre , 1985)
Mephisto
( National Theatre School , 1985)
Marathon dance
( Gladsaxe Theatre, 1985)
Candide
(Aalborg Theatre, 1986)
Jeppe
( Dramatic , Stockholm, 1986)
A Midsummer Night's Dream
The gasometer , 1986)
There was Once
( The Royal . Theatre, 1986)
RSVP
( Winn Theatre , 1987)
The kangaroo
(Aalborg Theatre, 1987)
Life is a Dream
(TV Theatre , 1987)
Sixpence Opera
( Dramatic , Stockholm, 1988)
Esther
( DKT , 1988)
Peer Gynt
( Betty Nansen Theatre , 1989)
Tartuffe
( Betty Nansen Theatre , 1989)
The Abduction from the Seraglio
( The Royal Opera , 1990)
Mate Carlsen's flames
( Cirkusbygningen , 1990)
Winter's Tale
( Central Theatre , Oslo 1990)
Romeo and Juliet
( Dramatic Theatre , Stockholm 1990)
Fidelio
( Concert Hall 1992)
Hamlet
( Betty Nansen Theatre , 1992)
The 7 Deadly Sins
( Edison , 1992)
Svejk
( Betty Nansen Theatre , 1993)
Clockwork Orange
( Betty Nansen Theatre , 1993)
The Hunchback of Notre Dame
( Betty Nansen Theatre , 1994)
Eddie Skoller
( Tivoli, 1994)
Richard 3
( Betty Nansen Theatre , 1994)
Faust
( Betty Nansen Theatre , 1994)
Gemini
( Betty Nansen Theatre , 1995)
Killer Joe
( Edison , 1995)
Hair
( Betty Nansen Theatre , 1996)
Project Paradise
( Edison, 1996)
Hair
( Mogador, Paris , 1997)
As you want it
( Betty Nansen Theatre , 1997)
The Cherry Orchard
( Dramatic , Stockholm, 1997)
The Greeks
( Betty Nansen Theatre , 1998)
Billedmagerne
( Betty Nansen Theatre , 1998)
Revenge of Truth
( DKT , 1998)
Galileo's life
( Betty Nansen Theatre , 1999)
Copenhagen
( Betty Nansen Theatre , 1999)
The sisters
( Betty Nansen Theatre , 2000)
Lady from the Sea
( National Theater , Oslo 2000)
Jeff Koons
( Betty Nansen Theatre , 2001)
Hustruskolan
( Dramatic Theatre , Stockholm, 2001)
When we dead wake
( Betty Nansen Theatre , 2002)
Misanthrope
( Betty Nansen Theatre , 2002)
11.7
( Edison, 2002)
IKON
(opera , DKT , 2003)
Limbo
Instruction and processing (2004)
Awards Peter Langdal
Jeppe - Price 1984 and 1985
Bear Uglebjergs Scholarship 1985
Teaterkatten 1985
High Court lawyer Niels Th. Kjølbyes Memorial Award 1986
Olaf Poulsen Memorial Award 1987
Alf Sjöbergs Memorial Award 1988
Herman Bang Memorial Award 1990
Danish / Swedish Friendship and Cultural Foundation Cultural Award 1992
Frederiksberg Prize 1995
Honorary Grant from Wilhelm Hansen Foundation in 1996
Paul Hammerich Foundation Memorial Scholarship 1997
Danish Arts Foundation 1999
Reumert Prize ( Best Director ) 2000 and 2002
The Danish Theatre Journalists price theater Cup 2004

Relaterede kunstnere:
James Sampson: Beskeden soulkunstner - Booking . 0217.0217 Magi i luften: Lone Selmer . :.Bandet Midt om Natten.: . Pop Fever: Etableret jam - show band . 068.125 Rigtige Mænd: Respekt for originalen . 069.159 Robbie Williams Jam
Relaterede emner