>Turn on Tina - Anne Holse<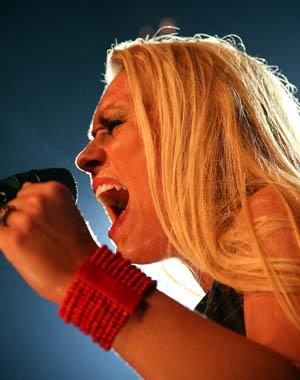 Tina Turner. Legenden fra Brownsville, Tennessee der gennem næsten 4 årtier lyste op som én af rockmusikkens mest karismatiske og populære stjerner.

Utallige koncerter, blændende shows og uden tvivl den mest ekspressive sangstemme på den internationale rockscene.

I 2000 sagde Tina Turner farvel med en omfattende verdensturné. Fans over hele verden tog afsked med Tina's overdådige karriere, med stemmen, med sangene, med showet - og med de fikse 'sidesteps'............

Turn on Tina fortsætter festen, hvor Tina Turner takkede af. – A tribute der har manifesteret sig som det ultimative Tina Turner show.

Turn on Tina's frontfigur er Anne Holse, som mange kender fra DK Rocks & ReBound Rubies. Den meget kompetent sangerinde forstår å¨bedste vis at give Turn on Tina masser af dynamik og nuance. Anne Holse er simpelthen Tina Turner's ultimative alter ego!

Turn on Tina leverer hele Tina Turner's perlerække af hits, fra 'River Deep' over 'Nutbush City Limits', 'What's love got to do with It', til 'Private Dancer' og 'When the heartache is Over'.

- Alt sammen i et storslået scenarium af lys, lyd og fyrværkeri.

Turn on Tina har optrådt adskillige gange på nationalt TV, samt begejstret tusinder af mennesker på de vigtigste danske rockklubber og festivals.

Skanderborgfestivalen blev således startskud til Turn on Tina's forestående eksportbrag.

Tina Turner har sagt farvel. Men med Turn on Tina lever sangene og showet videre, så tæt som man kommer på – simply the best!
Relaterede kunstnere:

Ole Kåre Føli - bodysdsbehandling . :. Claus Hagen Petersen .: Demokratiforedrag . ::Michael Thomsen - forandringsbriller - organisationskultur:: . ::Martin Østergaard - journalistterapeut::

Her kan du se en liste over vore kunstnere inden for rock - blues - kopi og jam bands:

Abba Revival Band
Abbatizers
Abba Unlimited - Peter Sinding
Absolute Live
Almost Famous
Anders Abrahamsen - akustisk/guitarspiller/sanger - folk/country - pop/rock
Availables coverunderholdning - musiknerve
Back To Blue
Back to the '80s
Basim
Batman & The Jokers
Beat Boys
Beatles for sale FlensFour
Beatles Revival
Beat the Meetles
Blast
BoogieKnights
Booze Brothers - uforfalsket Rock´n Roll
Boris Grant professionel musiker, troubadour, guitarentertainer - sanger
Bryan Adams Jam
Charlie Dee & the Twisters
Clark og de KENTe
Copenhagen Blues Brothers
Cover Up
Cross - Schack - Ostermann - sang - guitar - bas - vaskebræt
Daddy O s - rock - country - blues
::Delta Boogie Kings - sydstatsinspireret rock-blues::
Die Herren
Derelicte - coverversioner
Disco3000
Double Barrel Boogieband
Dwight Storey 19092011.201441 booking
::Eagles Jam - unik ørehængerkoncert::
Elvis Show Mike Andersen
Fede 80ere - genintroduktion af 80ermusikken
Fenders
Flemming Fiol - sindsygsizer - rock-pop-countryformidling
Fi-Fi Dong Gascopy - 100 % genbrugsgas
Festmaskinen
Flyers
Flying Hotdogs
Freak Out
Full Circle irsk folkemusik Zourab Chatberachvili og Tom Gottenborg
Funkarella - dynamisk blanding af dansevenlige hits
Gadedrengene
Gasoline
George Starr - Blue Boys
Gorm Bull Sarning synger Kim Larsen
Henning Stærk - storesangekunstner - rockformidling
heyya
Hits Only - rutineret festband
Hit Pack - dugfrisk talentmusik
::Hitpatruljen - De Fem der sigter lige efter benene::
Hitshakers - herlig - hårdtrykkende dansemusik
Hooters - Frække Former-Rock'n Roll
Hubertus
Ingvar og Bandet - ægtevare rock
Johan Lind - pigtrådssanger
Jes Holtsø - flyttemand Olsens søn - Morten Wittrock - 2009-talent
James Sampson
Joey Moe
Karaokeorkestret
Karsten Holm - Elvis
kedo - Simon Brohus Holm - spektrebetonet atmosfære
King Memphis
kiss me im danish
Knallert
La Playa Nudista
LARK - Jeanne Lercke - poprockbooking
Larsentroubadur - Ole Gas
Le Freak - Happy Disco
Lei Moe - groovepartyband The Heat.
Luke and The Skywalkers
Magi i luften
Majland Band
Mathiez
Max Wolff
Mayday - kickstarteren til festen
Men in black - årtiersrock-pop
Michael Wedgwood
Midt om Natten
Mimic - velfunderet rock - pop
Moccamind - musik-ikonhits
Monique
Natholdet
Night Fever
*Nstant Boys
Peer Rene Larsen
::Per Vers - lyrisk-rapkunstner-foredragsholder::
Peter Belli - rocksinger on tour
Peter Philipsen - superenergisk - Kim Larsen Jam
Pojah and the Soulpirates
PopFever
Popstuff – spilleglæde-kopiband
::Powerage - AC/DC kopiband::
::Pushplay - top10 i 10 år - energisklivemusic::
Red Squares
Repeatles - alle de store Beatles hits
Rigtige Mænd
Robbie Williams Jam
Rock Nalle - Poulsen - Sand - knaldrød pigtrådsmusik
Route 66
RubberBand: Biografi - Booking
Sanne Jam
Schmidt og Co.
Sgt. Pepper
Signal - Band - 80'er-klassikere
Sir Henry & His Butlers
Skin Tight
Sort of Soul
Spinning Wheels
Starpeople
Sweethearts - Pernille Højmark
Sømband med sømmet i rockbunden
Søren Berlevs Gas Show
Tarantino Soundtrack Orchestra
Tennis Band
TFT
The Blues Brothers Souvenir Show
The Boss - Springsteenfortolkninger
The Hitmen
The Party
The Powls
The Rocking Ghosts
The Roosters
The Scoops
The X Orchestra feat. Lasse Lindorff
Thomas Helmig Jam
Tom Jones Experience Shows
Trio Himmelblå - Hitparade - fyldte parketgulve - 0238.4631
U2 Jam
V.I.P - Michael Trier
Youngsters The - 4-musikere - 60er-rock
Zididada - Jimmy Colding - Danny Linde - 02103.6423