>Max Wolff<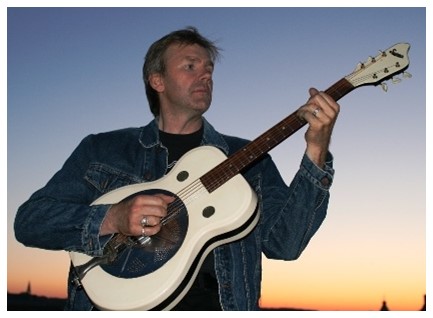 Repertoire:

Setting me up (Mark Knopfler)
Me and My Bobby McGee (Kris Kristofferson)
The wind Cries Mary (jimi Hendrix)
Down on the corner (John Fogerty/Creedence)
On the road again (Willie Nelson)
Friends in low places (Garth Brooks)
Sultans of swing (Mark Knopfler)
Karl & Ann Kathrin (John Mogensen)
Bring It On Home (Sam Cooke)
C'est la vie – You never can tell (Chuck Berry)
Ring of fire (Johnny Cash)
Still Got The Blues (Gary Moore)
Hello, Mary Lou (Ricky Nelson)
Costa del Sol (CV Jørgensen)
Så længe jeg lever (John Mogensen)
Oakie from Muskogie (Merle Haggard)
Himmelhundens Rag (Hasse Anderson)
Sixteen Tons (Johnny Cash)
Alices Restaurant (Arlo Guthrie)
Dixie Chicken (Little Feat)
Wonderful Tonight (Eric Clapton)
Water of Love (Mark Knopfler)
Sidder på et værtshus (John Mogensen)
Under Bøgen (Gnags)
Honky Tonk Blues (Hank Williams)
Honky Tonk Women (Jagger/Richards)
Proud Mary (John Fogerty/Creedence)
King og the Road (Roger Miller)
Country Roads (John Denver)
Nede I Møget (John Mogensen)
Jambalaya (Hank Williams)
Goodnight Ireene (Leadbelly)
Well, well, well (CV Jørgensen)
These Boots Were Made For W..(Nancy Sinatra)
Avenyen (Trine Dyrholm)
The Gambler (Kenny Rogers)
Folsom Prison Blues (Johnny Cash)
Summertime Blues (Eddie Cochran)
To mennesker på en strand (John Mogensen)
Brudevalsen (?) instrumental
Patricia (?) instrumetal
Limbo Rock (Chubby Checker) instrumental
Etc.etc etc.etc.

Al ovenstående musik bliver spillet med samme teknik, som i mine egne numre - dvs. uden hjælpemidler, nodestativer etc. men derimod med lige dele fornemmelse, tilstedeværelse og improvisation.
Tilbage til forsiden på Musiker-Børsen


Max Wolff delivers genuine music with guitar, vocals and a foot that keeps the pulse.
Inspired by music from turntable time, played Max Wolff his own music in the form of old and new and especially bluesy versions of long-life numbers.
The music is played with style, presence and, not least with a bit of soul from the long-haired 70s.
Max Wolff is an excellent fingerstyle and slide guitar, which in his company along the way will be many links to home plate rack where the old blues stand side by side with example. Chuck Berry, Hank Williams, Chet Atkins, John Fogerty, Ry Cooder, Mark Knopfler and JJCale, Cash and Clapton.
Max Wolff is an excellent example for smaller events of every kind, where the audience can enjoy the music, talk, get a swingom and even sing along to most.
Solo or as a duo with drums.
Nedenfor ser du vore kategorier af musik og underholdning:
0287.1101 Artister . 0288.1102 Børneaktiviteter . 0174.11.0 Børneunderholdning . 0286.1101 Country - bookinginformation . Danseorkestre - 2960 9372 . 0289.1101 Discoteker . Duo musikere . 0290.1401 Folkemusik - viser . Foredrag - her finder du foredrag af kendte danskere . 0710.09021 Gospel - formidling . 0292.1201:: Jazz - Swingmusik . Klassisk musik - bestilling af klassisk musik til koncerter eller receptioner . Komikere - musikalsk stand-up show . 0294.1101 Konferencier . 0717.2022 Musikere søges . Receptionsmusik . Rock - blues . 0295.1901 Serveringsteater . Solister . Solo musikere . Street Parade - akustisk gademusik med bands, som laver Streetparade . Tryllekunstnere . Elektronisk nyhedsbrev
Her ses et udvalg af vore kunstnere:
Festmaskinen: 4 - 5 - 7 - 9 - 11 musikere . -Peter Larsen: Skuespiller i solvognen . Anne Marie Helger:: Komikøs - søllement - unplukket forestilling med Anne Marie Helger . 029.1132 - Per Vers - Funky foredrag