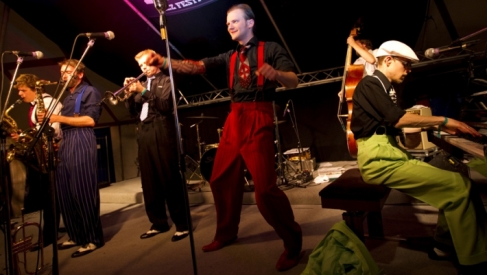 Prima Junior er 6 unge musikere, der spiller jive musik, dvs. swing musik med gang i. Med inspiration i Louis Prima og Louis Jordan stilen kaster de 6 unge musikere sig ud uden sikkerhedsnet i et forrygende favntag med musik, der rykker og swinger og appellerer til unge som ældre.

Repertoiret er bl.a. Louis Prima og Louis Jordan numre i nye udgaver. Leo Mathisen. Egne swing numre.

Musikerne:
Mathias Flint 'King Jive' - vocal
Rune Krogshede 'Hot Lip Bill' - trumpet
Anders Frang 'Francesco Dell'Arte' - tenor sax
Jonas Enevoldsen Andreasen 'Barry "Two-Tone" Jonas' - baryton sax
Anders Grankvist Schou 'The Big Fat Pianoman' - piano
Jakob Retz 'Jake Doghouse' - bass
Andreas Skamby 'Sir Archibald Beatworthy' - drums

On several occasions, this young band has taken any audience by storm.
Prima Junior plays jive, jump and swing music inspired by Louis Prima and Louis Jordan - and in a breathtaking performance the music appeals to young as well as adult jazz fans.

Inspiration:
Louis Prima, Louis Jordan, Cab Calloway, Colin James, Roomful of Blues, Wynonie Harris, Cherry Poppin' Daddies, Big Bad Voodoo Daddy, The Royal Crown Revue ...