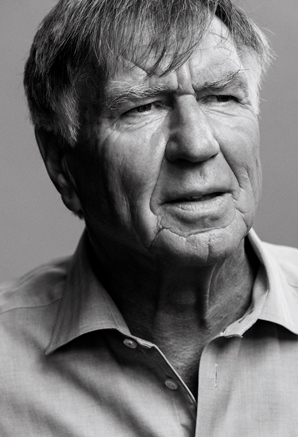 Sepp Piontek requires hardly more detailed presentation. Known and loved by all he was when he was in charge of the Danish national team
in the golden eighties - with the World Cup in Mexico as the highlight.
7 Sepp is an inspired tell, and his charming Danish he will talk about how he combined the relaxed Danish mentality with iron tough German discipline.

The lecture draws parallels to business issues. In his usual humorous
way to spice Sepp his talk with anecdotes from the world of football

"Leadership in a different way '

It is an exciting lecture on how to with a different and professional attitude creates success.

Whether it takes place in a company or in the Danish national football team is really irrelevant. It is the employees 'or players' attitude and motivation, and how the manager skills to each employee to provide his absolute best while being a part of the team that is art, assesses Sepp Piontek.

The title can also be called "Teamwork in a different way '

A lecture with Piontek contains a great deal of humor, so there will be also the occasion for participants to have fun and laugh together.

"Experiences like coach '

Piontek's footballer and coach. Professional footballer until 1971. Football Coach in many different clubs. Former national coach in Denmark and Turkey. Club Coach in Aab and Silkeborg. Now coach in Greenland and Old Boys team.

Piontek or Josef Piontek (born March 5, 1940 in Breslau) is a German footballer and football coach.

Piontek played in the period 1963-1972 203 Bundesliga matches for SV Werder Bremen and 6 matches in the German national team. Since he became coach of the first SV Werder Bremen and later for Fortuna Düsseldorf and FC St. Pauli.

In 1979 he was coach of the Danish national team after being national team coach in Haiti. He held the position through 115 international matches until 1990. This period has become known as a turning point in Danish football and Piontek attributed much of the credit for the revival of Danish football that culminated in victory at the European Championships in 1992. In 1983 he named the year Coach in Denmark.

Later he was coach of Turkey after which, in 01 / 07-1995 - 30 / 05-1996 was first coach for AaB and later in a period have trained Silkeborg IF. Today Piontek coach for the Greenland national football team and holds a presentation about leadership on the basis of his experience in the world of football.

Opinion of the customer:

Hello Aage,

Yes, we had an absolutely fantastic evening with Sepp Piontek

Would you say to Sepp that customers and suppliers were very astonished that he took such good time to talk.

Yours sincerely
Henrik Hejlskov Fauerholdt

Sepp Piontek starred Richard Moller Nielsen, Preben Elkjær, Michael Laudrup and Frank Arnesen in the movie "And it was Denmark", which premiered May 9, 2008.