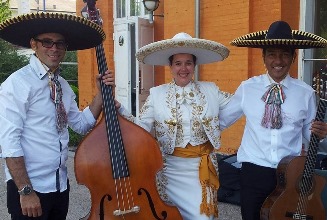 Yasser Pino Mex Trio er en trio der spiller akustisk musik fra den mexicanske folklore fx rancheras og corridos mejicanos.
De spiller også andre mexicanske sange, der er populære og kendte i Danmark, som fx La Bamba, La Cucaracha, Cielito Lindo etc.

YASSER PINO - Bass player & composer

Born in Havana in 1976, resides today in Copenhagen, Denmark. Pino is graduated as concertist and classical guitar teacher from the Conservatory "Amadeo Roldan" in
Havana in 1995, he is also graduated as contrabass player and teacher from the Rhythmic Conservatory of Copenhagen in 2006.

In Cuba Pino worked as a bass player with bands such as Aries, Natura, Chucho Valdes Jr, Roberto Fonseca & "Temperamento", Denis y su Swing, Rojitas y su Orquesta.

Currently, he is a very busy musician who collaborates in multiples projects and bands, playing extensively with renamed musicians such as: Håkon Graf, Jonas Johansen, Morten Grøndvad, Simon Spang-Hanssen, Steen Rasmussen, Calixto Oviedo, Eliel Lazo, Alexander Abreu, Ernesto Manuitt, Carlos Perez, Afrocuban All Stars, Cubanismo, Harold Lopez-Nussa Trio. He also teaches contrabass, electric bass, guitar and ensemble.

With the recently released album 'NATURA' by his Latin Jazz project 'The Latin Syndicate', Yasser has fomented his mark as one of the most solid musicians of his generation.