>Prima Junior - funnyjiveplaying<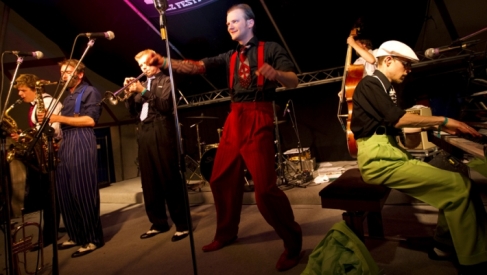 Prima Junior er 6 unge musikere, der spiller jive musik, dvs. swing musik med gang i. Med inspiration i Louis Prima og Louis Jordan stilen kaster de 6 unge musikere sig ud uden sikkerhedsnet i et forrygende favntag med musik, der rykker og swinger og appellerer til unge som ældre.
Repertoiret er bl.a. Louis Prima og Louis Jordan numre i nye udgaver. Leo Mathisen. Egne swing numre.
Hvis du ønsker at lytte til musikken med Prima Junior, er du velkommen til at kontakte mig på aage@musiker-boersen.dk eller 75 36 34 40
Musikerne:
King Jive/Vokal
Frankie Four Fingers/Tenor Saxofon
Moltjuice Mike/Trumbone
The Lip/Trumpet
Jake The Dog/Bass
Big Fat Piano Man/Piano
The Skinbeater/Trommer
On several occasions, this young band has taken any audience by storm.
Prima Junior plays jive, jump and swing music inspired by Louis Prima and Louis Jordan - and in a breathtaking performance the music appeals to young as well as adult jazz fans.
Inspiration:
Louis Prima, Louis Jordan, Cab Calloway, Colin James, Roomful of Blues, Wynonie Harris, Cherry Poppin' Daddies, Big Bad Voodoo Daddy,
The Royal Crown Revue ...
Relaterede kunstnere:

John Aasted Halse - omgangstoneforedrag . ::Hanne Reintoft - historiskromanforedrag:: . Niels Højlund - forsamlingshusoplægsholder . ::Kjeld Koplev - jødisk humorforedragsholder:: . Leif Hjernøe - sagaforedrag . Brian Lange - Legionærforedrag

Her kan du se en liste over vore kunstnere inden for jazz og swing:

All-time Jazz- og Swingband - lydniveautempo
Almost Ella Jazz Trio
Arosia
Basement Jazzband
Bernadotte Swingers
Bjarke Falgren
Blaa Mandag Jazzband
Bourbon Street Jazzband gallery
Brigitte Escobar Trio
Cheese'n Wine Music - Henrik Bay - Niels Stuart - Smoothjazz i verdensklasse
Danish Dixieland Band
Christian Søgaard Trio - livfuldenergimusik
Favorittes - vokalswingtrio - kontrabas
Fessors Kvartet
Frei´s Jazz
Full House - 3 musikere
Hans Knudsens Jumpband
Ib Glindemann's Orkester
Jangmark og Vinsand swingtime
Jazz Buffetten
Jazz Five
Jazzkavaleriet - gangigadenjazzmusik
- Jazznødderne: Swingende jazzmusik - krydret med vanvittige påfund og skøre indfald
JazzOBS
Jazzeau - Up-front baggrundsmusik
Jensens Jazz Serenaders
Jesper Thilo
Jordans Drive
Just Friends - jazz - swing - bossa nova
JØRGEN SVARE NEW JAZZ TRIO
Lake City Jazzband
Louisiana Jazzband sangerinden Daimi
Madam Blue's Jazzband
Majken og Fjeldtetten
Maria Emig & Tommy Garcia Duo
New Orleans Swing Band
Nissenbaum Trio
Nulle - Verdensorkestret
Onkel Dunkel
Organic3 Niels Ove Sørensen feat. Benjamin Koppel
Papa Bue's Viking Jazz Band
Poul-Erik Kreinøe's Kvartet
Ramsings Orkester
Ramsings Street Paraders
Seven Up
Sigurd Barrett and The Cigars
Silver Rosendal Stompers
Singers - rf02064.2658
Sinne Eeg - jazztalentsolist
::Six City Stompers - entusiastiskt traditionelt jazzband::
Some like it hot: 6 kvinder stort swing-orkester
SWEET SUE's TRIO - En dejlig stemme, swingende evergreens - gode kendte spirituals
Swingslingers
The Barbars
The Dixieland Gypsy Band
Valdemar Rasmussen Trio - jazzformidling
Vestre Jazzværk