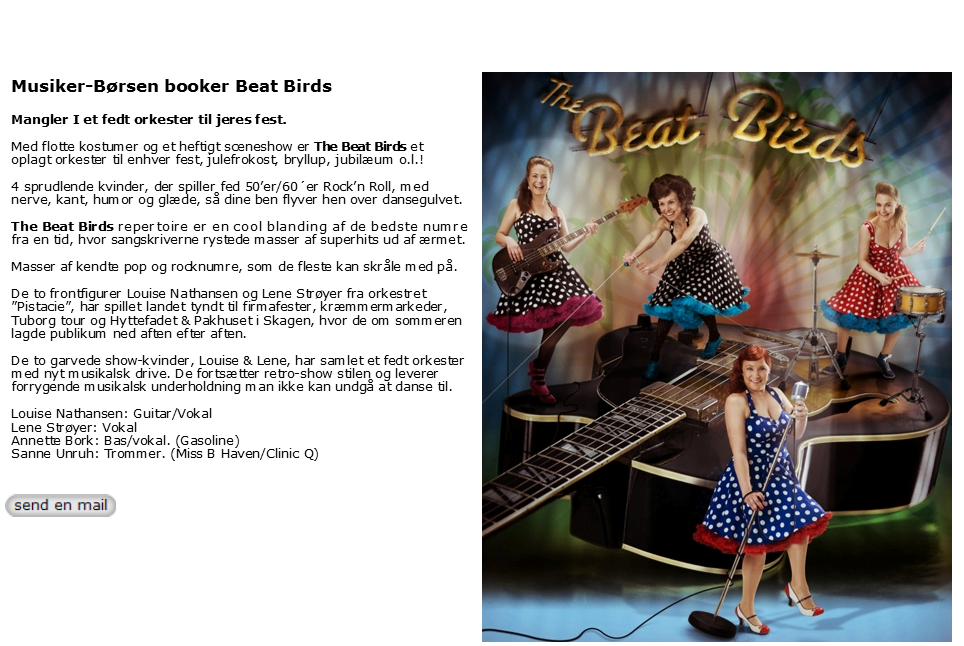 >Beat Birds: Louise Nathansen -Lene Strøyer - book Beat Birds<
If you need a fat band for your party
With beautiful costumes and a massive stage show is The Beat Birds an obvious rkester at any party , Christmas party, wedding, anniversary , etc. !
4 exuberant women who play bold '50s / '60s Rock'n Roll, with nerve , edge , humor and joy, so your legs flying across the dance floor.
The Beat Birds repertoire is a cool mix of the best tracks from a time when songwriters shook lots of super hits out of the sleeve .
Lots of well-known pop and rock songs that most people can sing along to .
The two leading figures guitarist Louise Nathansen and singer Lene Strøyer from the band " Pistachio " , has played country thin for company parties, flea markets , Tuborg tour and Hyttefadet & warehouse in Skagen, where the summer lay audience down night after night.

The two seasoned show- women , Louise & Lene , has assembled a fat orchestra The Beat Birds with new musical overdrive. They continue retro - style show and delivers terrific musical entertainment you can not help but dance to.

Louise Nathansen :
Guitar / Vocal
Lene Strøyer
Vocal
Annette Bork
Bass / vocals.
( Gasoline )
Sanne Unruh
Drums
(Miss B Haven / Clinic Q)
Relaterede kunstnere: Back to the 80s