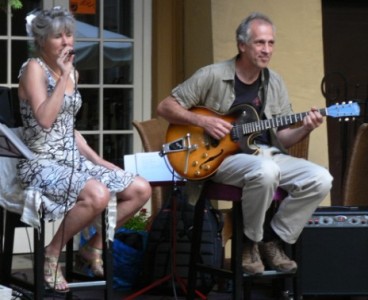 Jazz By Heart skaber et meget intimt miljø og tæt forhold forhold til de mennesker de spiller for.

Det er en blanding af musikalske stilarter, men altid spillet med udgangspunkt i jazz som en platform.

Musik baseret på et tæt musikalsk sammenhæng mellem Karin Juhl og Daniel Van Kranendonk med fokus på publikums stemninger og ønsker.

Mellem år 1975 - 1986 indspillede Ella Fitzgerald og Joe Pass 6 albums med nogle af de bedste sange fra den amerikanske sangbog.

Denne lethed og åbenhed i vokal og guitar indbyder nye lyttere ind i jazzverdenen.

Som en hyldest til Ella og Joe, fortolker Karin Juhl og Daniel Van Kranendonk disse vidunderlige sange i en intim og kærlig atmosfære, hvor hver eneste tone er pakket ind med varme og opmærksomhed.

Den musik og historier om Ella og Joe sørger for en perfekt aften til dit arrangement.

Jazz By Heart create a very intimate environment and close relationship to the people we play for. It is a mix of musical styles but always played with the foundation of jazz as a platform.

Music based on a close musical relationship between Karin Juhl and Daniel Van Kranendonk with focus on the audiences moods and requirements.

Between the years of 1975 - 1986 Ella Fitzgerald and Joe Pass recorded 6 albums with some of the best songs from the American Songbook.