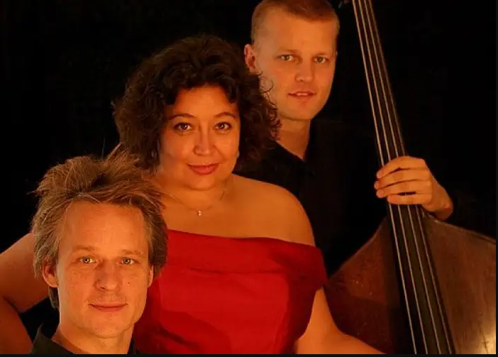 Almost Ella Jazz Trio with a twist of Latin.

Almost Ella is a sophisticated tribute to the one and only Ella Fitzgerald with the additional bonus of well-known smooth and sensual Latin Jazz songs.

Profile:
With a combination of top class musicianship and a wealth of experience playing at high quality events, Almost Ella adds style and sophistication to any occasion. The traditional line-up of Voice, Piano and Bass (+ drums for quartet) brings a compelling sound to any occasion.
The group is headed by Brigitte Escobar who recently sang at the prestigious Bamboo bar, Bangkok, performing for, amongst many others, UN Secretary General Kofi Annan as well as her Majesty the Queen of Thailand.
Brigitte has been performing for over twenty years and has had her music released by Red Kite Records. Her extensive engagements include performances at a multitude of music festivals across Europe and has been the supporting act for amongst others Celia Cruz, Orlando Cachaito Lopez, Buena Vista Social Club, Afro Cuban All Stars as well as performing at the UEFA Euro Cup Final 2003.

Testimonials:
"Simply stunning" – Progression Magazine, USA

"It's clear that a supremely confident singer is at work" – Musician Magazine

"Here's a wonderful album from a true international" – Manchester City Life
Please let me know if there are any problems but I hope this is useful.
All the best

PRESS QUOTES

"It's clear that a supremely confident singer is at work!" - Chris Broughton/MUSICIAN

You sing beautifully" - Kofi Annan, UN General secretary, complimented Brigitte after performance at the prestigious Oriental Hotel, Bangkok 2004.

"She has a strong voice and a highly personal approach" - Steve Millward/MANCHESTER EVENING NEWS

"It is good to hear a band that play tight and relaxed, the music swings and is energetic and extroverted" - GAFFA

"The backing is a model of sensitivity" - Mike Butler/CITY LIFE

"The 2005 Manchester Jazz Festival has seen some superb music but this performance was absolutely outstanding" - Steve Millward/ Manchester Evening News

"Walbum proves that his command of the instrument and craft puts him right up there with the best" - Bent Stenbakken/Nordjyske Stifttidende

"The level of excellence is consistent throughout, as is the brilliant accompaniment" - Jan Strand/Jazz Special

"Her control is phenomenal" - Mike Butler/CITY LIFE "Brigitte Escobar's dark, sexy voice has a cool but fascinating sensuality" - GAFFA


Repertoire:
All of me Alice in wonderland All the things you are Angel eyes As time goes by Autum leaves Beautiful love Bewitched Body and soul Blame it on my youth Born to be blue Blacbird Byssan lul Caravan Cheek to cheek Charade Dream a little dream Don't explain Don't get around much Embraceable you Every time we say good bye From this moment on Girl from ipanema Get here Ghost God bless the child Here there and everywhere I get a kick out of you I got rhythm I got you under my skin I could have danced all night I cover the waterfront It had to be you I love Paris It don't mean a thing In a sentimental mood Just friends Ladybird Like someone in love Love for sale Loverman Lullaby birdland Misty Moon river My favourite things My funny valentine Never will I marry Night and day Night in Tunisia Nature boy My heart belongs to Daddy Our love is here to stay Over the rainbow Por que te vas Round midnight Smooth Operator So in love Softly as in a morning Someday my prince will come Stella by starlight Summertime Take the 'A' train The island There is no greater love They all laughed They can't take that away This masquerade That's what friends are for Tenderly Twisted Unforgettable When I fall in love Yesterdays You changed You don't know what love is You go to my head A felicidade Acercate mas Agua de beber Besame mucho Black Orpheus Brasil Compadre pedro Juan Corcovado Cravo e canela Cubanisimo Desafinado Dindi Don't you worry about a thing El carretero El manisero Girl from Ipanema Guantanamera How insensitive Jam in Gm La essencia del guaguanco Lluvia viene Manteca Mas que nada Meditation No more blues Oye como va Perfidia Quizas quizas quizas So danco samba Sway Tequila Time for carnaval Tres palabras Wave Abba medley Ain't no sunshine All by myself An Englishman in New York And I love her Baby can I hold you Brown eyed girl Can't stand losing you Can't take my eyes off you Don't know why Evergreen Every breath you take Falling' Fever Fields of gold Flying without wings Fragile Give me some loving Heard it through the grapevine Hello Hero Hey jude Hit me baby one more time Hopelessly devoted to you I will always love you Imagine Just the two of us Knocking on heaven's door Lady is a tramp Lately Lean on me Lover man Message in a bottle Michelle Russians Sitting on the dock of the bay Smooth operator Tears in heaven The long and winding road There are worst things I could do Walking on the moon Wonderful tonight Yesterday You are not alone You got to be.