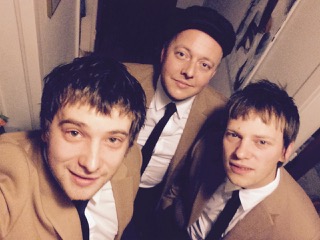 Whole Lotta Shakin er et festligt rockband, der elsker evergreens i særklasse.
Så er man til god gammeldaws rock er dette bandet til din kommende fest.
Med en forkærlighed for specielt 50/60'erne går de på scenen med et stærkt repertoire med hits fra blandt andre The Beatles, Rolling Stones, Beach Boys, Elvis, The Kinks og The Who!
En aften i selskab med Whole Lotta Shakin garanterer dig en fest hvor skoene for alvor vil blive kridtet, og hvor humøret er i top.

Whole Lotta Shakin spiller 2 x 60 min. eller 3 x 45 min.

I Saw Her Standing There – The Beatles
Johnny B. Goode – Chuck Berry
All My Loving – The Beatles
My Generation – The Who
I've Just Seen A Face – The Beatles
Day Tripper – The Beatles
Twist And Shout – The Beatles
You Really Got Me – The Kinks
Girl, All Day And All Of The Night – The Kinks
Mustang Sally – Wilson Pickett
Midnight Hour – Wilson Pickett
Help! – The Beatles
Good Golly Miss Molly – Creedens Clearwater Revival
Eight Days A Week – The Beatles
A Hard Days Night – The Beatles
I Wanna Hold Your Hand – The Beatles
Sweet Home Alabama – Lynard Skynard
Bad Moon Rising – Creedens Clearwater Revival
Proud Mary – Creedens Clearwater Revival

Come Together – The Beatles
Get Back – The Beatles
Hound Dog – Elvis Presley
Satisfaction – Rolling Stones
Back In The USSR – The Beatles
Roll Over Beethoven – Chuck Berry
Whole Lotta Shakin' Going On – Jerry Lee Lewis
Ain't No Sunshine – Freddy King
She Loves You – The Beatles
That's Alright Momma – Elvis Presley
Honky Tonk Woman – Rolling Stones
Jailhouse Rock – Elvis Presley
Pretty Woman
Jumping Jack Flash – Rolling Stones
Suspicious mind – Elvis
Fortunate sun – Creedens Clearwarter
Ticket to ride – Beatles
House of rising sun – Animals
Cinamon girl – Niel Young