>Tropical Steel Band - 2 - 5 - 8 musikere - Bookinginformation<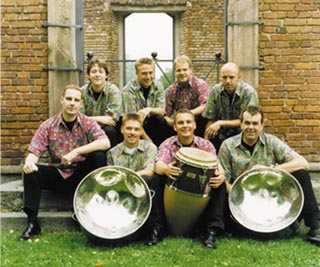 Tropical Steelband er et 8 mands store steel band, og er en oplevelse både for ører og for øjne. Bandet er et af Danmarks ældste steel bands, og har gennem de sidste 8 år optrådt ved, nær sagt alle mulige arrangementer, både i ind- og udland. Så hvis I skal have et orkester, og holder i af fest og farver, limbo og lambada, så er det Tropical Steel Band i skal have fat i.
Spilletid: max. 3 X 45 min.

Andre udgaver af Tropical Steel Band:

Tropical Steel Five
Dette 5 mands orkester består af:
Trommer, bas, keyboard og 2 gange olietønder. Orkesteret er især kendt for deres optræden i tv udsendelsen "Husk lige tandbørsten" Steel Five spiller glad danse-musik, og er derfor velegnet til alle arrangementer.
Spilletid: max. 3 X 45 min.
Tropical Steel Duo
Denne duo er især velegnet til receptioner og mindre arrangementer, hvor der ikke skal bruges et decideret danseorkester.
Spilletid: max. 2 X 45 min.
Relaterede kunstnere:
Grand Prix De Luxe partyband med kitschhits.: booking . Hitmaskinen: Navnet er ikke for sjov! - Booking - 2960 9372 . 0317.88 Jordans Drive: Jives you crazy! . 0369.20 Kandis . ::Kansas City Stompers:: En underholdningsmaskine . Kim og Hallo .