>Lars Lottrup - megaballon og ethjulet cykel<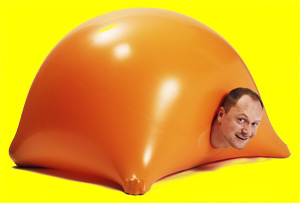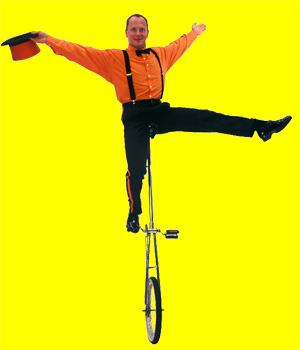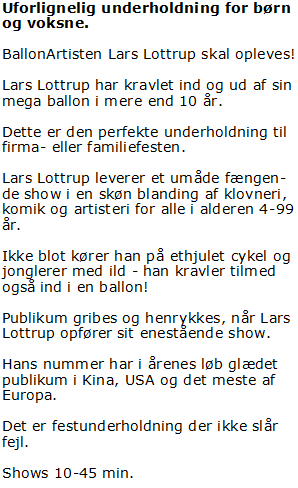 Unparalleled entertainment for children and adults.
Balloon Artist Lars Lottrup must be seen!

Lars Lottrup have crawled in and out of his mega balloon for more than 10 years.
This is the perfect entertainment for corporate or family party.
Lars Lottrup provide an immensely catchy show in a wonderful mix of clowning, comedy and artistry for all aged 4-99 years.
Not only he drives a unicycle and juggling with fire - he climbs even also into a balloon with his whole body!
The crowd seized and enraptured when Lars Lottrup performs his unique show.
His number over the years has delighted the public in China, the U.S. and most of Europe.
It's party entertainment that does not fail.
Shows 10-45 minutes - all over the country.
Events:
2000 - Lars Lottrup won bronze for the World Cup on the unicycle.
2001 - was the year when I was in Zirkus Nemo, which has also been shown on TV a few times. In Photo, you can see a video of my performance there.
2001 - After Zirkus Nemo, Lottrup was invited to perform at the International Comic Arts Festival in Tianjing in China. It was a very big festival but clowns from around world.All loved my balloon number, and I ended up winning second place in the competition.
2002 - won two silver medals at the World Championships on the unicycle.
2003 - here I was invited by the Zirkus Nemo Greatest where we toured music halls throughout Denmark. It was an exciting touring.
2004 - won two gold medals at the World Championships on the unicycle.
2006 - won six gold medals at the World Championships on the unicycle.
Lars have a number of times appeared on TV with either unicycle or Mega balloon in several countries all over the world.
Training:
As an entertainer, Lottrup is self-taught. All I can come from being tested on audiences for many years. I started acting in 1990 and has lived of performing with the unicycle since 1998.
My training is as a schoolteacher, but the training has never been used only as a basis for the way I am with children.
In 1998 I trained Certified Balloon Artist of Qualitex Balloon Network, which is the best training in the world for balloon artists.

Relaterede kunstnere:
029.1132 - Per Vers - Funky foredrag . _-_048.188 Booking forespørgsel:: Peter Qvortrup Geisling - Lægens Bord . Trine Sick - ordstyrer/konferencier . 0135.18 Ole Thestrup: Bookinginformation . TV Manden Henrik Dahl - 02107.5139 . 0218.111: Jytte Dreyer . Puk Elgaard - Temaet er "Karriere"
Denne side med Lars Lottrup er opdateret, onsdag, den 6. juli 2015 kl. 12.24