>Trine Gadeberg: Pop- og musicalsangerinde med komisk talent<
Forside/menu * Bookingforespørgsel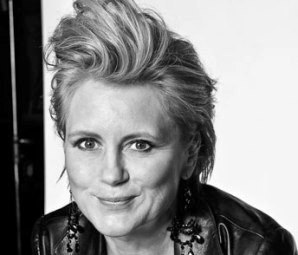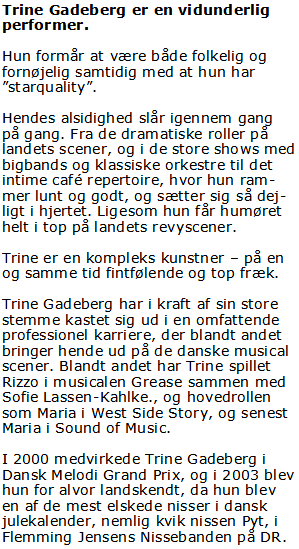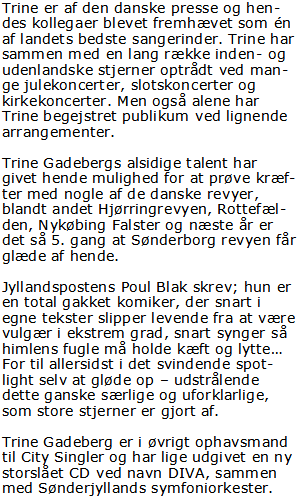 Trine Gadeberg is a wonderful performer. She manages to be both popular and enjoyable at the same time that she has " star quality "
Her versatility is reflected again and again . From the dramatic roles on the country scene , and in the big shows with big bands and classical orchestras to the intimate café repertoire when she hits the warm and comfortable , and sits beautifully in the heart. Just as Trine Gadeberg gets the mood right at the top in the country revue scenes.
Trine Gadeberg is a complex artist - at the same time delicate and top naughty.
Trine Gadeberg by virtue of her great voice embarked on an extensive professional career , among other things, brings her out on the Danish musical scenes. Among other things, Trine played Rizzo in the musical Grease with Sofie Lassen - Kahlke . , And starring as Maria in West Side Story , and most recently Maria in The Sound of Music .
In 2000 starred she in the Danish Melodi Grand Prix, and in 2003 she was really a household name when she became one of the most beloved gnomes in Danish advent calendar : the stop- elf Never mind, in Flemming Jensen's Christmas Gang DR.
Trine is the Danish press and her colleagues were highlighted as one of the best singers . Trine , along with a wide range of domestic and international stars performed at many Christmas concerts , castle concerts and church concerts . But alone , Trine enthusiastic audience similar event.
She Street 's versatile talent has given her the opportunity to try out some of the Danish revues , including Hjørring Revue, Rat Trap , Nykøbing and next year is it 5 time to Sonderborg revue will benefit from her.
Jyllands-Posten Poul Blak wrote : she is a total nutty comedian who soon own texts escape alive from being vulgar in the extreme , sometimes sings so that the birds must shut up and listen ... To the very end of the dwindling spotlight even glow up - radiating this exceptional and inexplicable that big stars are made of.

She is also the author of City Singles and has just released a new magnificent CD called "Diva", along with Southern Jutland Symphony Orchestra .