>Full - House - 3 musikere - jazz - latin - groove - melodi<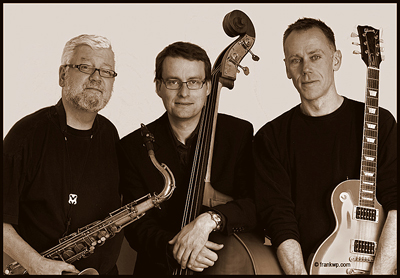 Med 25 års kærlighed til bossa nova, jazzstandards, blues, swing, ballader og nordisk jazz, har den svenske guitarist Per Mjöbäck
her samlet et nyt hold i bandet Full House.

Trioen består af tre musikere der trækker på mange års erfaring fra meget forskellige sammenhænge, blandt andet;

Leonardo Pedersens Jazzkapel, Hans Knudsens Jump Band, Great Danes Bigband, Mats Holmqvist Kvintett, Lena Willemark, Route 66, BiG Mouth, Fourways, Sigurds Bjørnetrio, Signe Svendsen, Paul Harrison International Jazzband og Martin & Ketil.

Full House spiller et meget blandet repertoire, fra evergreens, swing, bossa nova, blues til jazzballader med numre af blandt andet Carlos Jobim, Duke Ellington, Herbie Hancock, Wes Montgomery, Stan Getz, Chick Corea, Pat Metheny, Charlie Parker, Lois Bonfi, Victor Young,
Cornelis Vreeswijk, Stevie Wonder.

Udgangspunktet er bandets store kærlighed for jazz & latin, den gode melodi og et godt groove.

Full House er meget velegnet til caféer, mindre spillesteder, receptioner, ferniseringer, firmafester, bryllupper og andre private fester.

Full House :
Finn Lynge - saxofon
Bjarne Christensen - bas
Per Mjöbäck – guitar

****************************************************************************
- Full House - repertoire
A Foggy Day
Desafinado
Ain´t Misbehavin´
Don´t Get Around Much Anymore
All of Me
Down her On The Ground
All The Things You Are
Fly Me To The Moon
As Time Goes By
The Girl From Ipanema
Autumn Leaves
Here´s That Rainy Day
Beautiful Love
In A Mellow Tone
Black Orpheus James
Blue Bossa
Lullaby of Birdland
Blues For Alice Misty
Body And Soul
Out Of Nowhere
Cantaloupe Island
Satin Doll
Chameleon
Stella By Starlight
There Will Never be Another You
The Days of Wine And Roses Things Ain´t What They Used To Be
med flere......
0292.1201:: Jazz - Swingmusik . Partybands:: Musiker-Børsen
Relateret band
Festmaskinen - 4 - 5 - 7 - 9 - 11 musikere
Denne side er genoprettet den 9. september 2011, kl. 16:53:59
Her kan du se en liste over vore kunstnere inden for jazz og swing:
All-time Jazz- og Swingband - lydniveautempo
Almost Ella Jazz Trio
Arosia
Basement Jazzband
Bernadotte Swingers
Bjarke Falgren
Blaa Mandag Jazzband
Bourbon Street Jazzband gallery
Brigitte Escobar Trio
Cheese'n Wine Music - Henrik Bay - Niels Stuart - Smoothjazz i verdensklasse
Danish Dixieland Band
Christian Søgaard Trio - livfuldenergimusik
Favorittes - vokalswingtrio - kontrabas
Fessors Kvartet
Frei´s Jazz
Hans Knudsens Jumpband
Ib Glindemann's Orkester
Jangmark og Vinsand swingtime
Jazz Buffetten
Jazz Five
Jazzkavaleriet - gangigadenjazzmusik
- Jazznødderne: Swingende jazzmusik - krydret med vanvittige påfund og skøre indfald
JazzOBS
Jazzeau - Up-front baggrundsmusik
Jensens Jazz Serenaders
Jesper Thilo
Jordans Drive
Just Friends - jazz - swing - bossa nova
JØRGEN SVARE NEW JAZZ TRIO
Lake City Jazzband
Louisiana Jazzband sangerinden Daimi
Madam Blue's Jazzband
Majken og Fjeldtetten
Maria Emig & Tommy Garcia Duo
New Orleans Swing Band
Nissenbaum Trio
Nulle - Verdensorkestret
Onkel Dunkel
Organic3 Niels Ove Sørensen feat. Benjamin Koppel
Papa Bue's Viking Jazz Band
Poul-Erik Kreinøe's Kvartet
::Prima Junior - funnyjiveplaying::
Ramsings Orkester
Ramsings Street Paraders
Seven Up
Sigurd Barrett and The Cigars
Silver Rosendal Stompers
Singers - rf02064.2658
Sinne Eeg - jazztalentsolist
::Six City Stompers - entusiastiskt traditionelt jazzband::
Some like it hot: 6 kvinder stort swing-orkester
SWEET SUE's TRIO - En dejlig stemme, swingende evergreens - gode kendte spirituals
Swingslingers
The Barbars
The Dixieland Gypsy Band
Valdemar Rasmussen Trio - jazzformidling
Vestre Jazzværk