>Brassflavour - groovy jazzmusic - booking<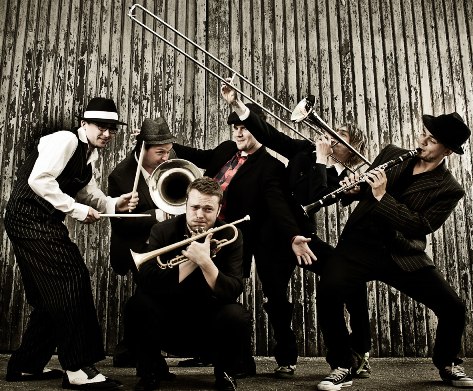 The par cans and the chandelier throws a warm soft light on the stage. Hummingsounds appears from the horns, that are tuning in the back. And then it happens !
An unforgettable night with Brassflavour is about to begin. In short time, lively melodies will mix up with crazy riffs, funky horns and heavy grooves laid down by the rhytmsection.
The result is an exciting night with different music from the traditional Jazz treasure. Music that never looses it's intensity and energy. Often people have to leave there chairs and get on the floor.
Brassflavour was formed in spring 2008 and is currently situated in Esbjerg, Denmark. Brassflavour is an ambitious traditional orchestra that plays groovy music with focus on the good melody and the great arrangement. The inspiration is mainly New Orleans music.
Brassflavour has played at a lot of jazzclubs and several jazzfestivals like Copenhagen Jazz Festival and Silkeborg Riverboat Festival.

Lineup
Søren Pedersen: Drums
Bjarke Nikolajsen: Trumpet & Vocal
Mads Rahbek: Tenorsax & Clarinet
Casper Jensen: Tuba
Magnus Bak: Trombone & Tenorhorn
Thomas Bryla: Piano
2012-03-16
Ladies & gentlemen!!!
The time has come!!
Brassflavour will release their very first album "Brassflavour - A taste of New Orleans" the 16th of march. You are all invited to the releaseparty at Underground (Hotel Britannia) Esbjerg.
The party doesn't stop there!! We will play a concert at Tango Y Vinos in Copenhagen the 24th of march. So make sure to show up and buy an album or two :-)
Relaterede kunstnere:
Paula Larrain.: Freelancejournalist - ordstyrer - konferencier - foredragsholder . _-_048.188 Booking forespørgsel: Peter Qvortrup Geisling . 0360.1801:: Peter Mygind - Om at blive et stærkt menneske . 047.113: Søren Pilmark - Beleven - velformuleret komik . :.Abba Revival Band.: Atmosfæren fra ABBA's storheds tid er her endnu . Musik til bryllup - bryllupsbands fra 10.000-15.000 kr . Die Herren - in the name of U2
Her kan du se en liste over vore kunstnere inden for jazz og swing:
All-time Jazz- og Swingband - lydniveautempo
Almost Ella Jazz Trio
Arosia
Basement Jazzband
Bjarke Falgren
Blaa Mandag Jazzband
Bourbon Street Jazzband gallery
Brigitte Escobar Trio
Cheese'n Wine Music - Henrik Bay - Niels Stuart - Smoothjazz i verdensklasse
Danish Dixieland Band
Christian Søgaard Trio - livfuldenergimusik
Favorittes - vokalswingtrio - kontrabas
Fessors Kvartet
Frei´s Jazz
Full House - 3 musikere
Hans Knudsens Jumpband
Ib Glindemann's Orkester
Jangmark og Vinsand swingtime
Jazz Buffetten
Jazz Five
Jazzkavaleriet - gangigadenjazzmusik
- Jazznødderne: Swingende jazzmusik - krydret med vanvittige påfund og skøre indfald
JazzOBS
Jazzeau - Up-front baggrundsmusik
Jensens Jazz Serenaders
Jesper Thilo
Jordans Drive
Just Friends - jazz - swing - bossa nova
JØRGEN SVARE NEW JAZZ TRIO
Lake City Jazzband
Louisiana Jazzband sangerinden Daimi
Madam Blue's Jazzband
Majken og Fjeldtetten
Maria Emig & Tommy Garcia Duo
New Orleans Swing Band
Nissenbaum Trio
Nulle - Verdensorkestret
Onkel Dunkel
Organic3 Niels Ove Sørensen feat. Benjamin Koppel
Papa Bue's Viking Jazz Band
Poul-Erik Kreinøe's Kvartet
::Prima Junior - funnyjiveplaying::
Ramsings Orkester
Ramsings Street Paraders
Seven Up
Sigurd Barrett and The Cigars
Silver Rosendal Stompers
Singers - rf02064.2658
Sinne Eeg - jazztalentsolist
::Six City Stompers - entusiastiskt traditionelt jazzband::
Some like it hot: 6 kvinder stort swing-orkester
SWEET SUE's TRIO - En dejlig stemme, swingende evergreens - gode kendte spirituals
Swingslingers
The Barbars
The Dixieland Gypsy Band
Valdemar Rasmussen Trio - jazzformidling
Vestre Jazzværk