>Bourbon Street Jazzband gallery<
Klik her for at se oplysninger om formidling og koncerter med Bourbon Street Jazzband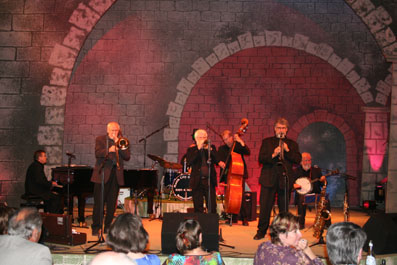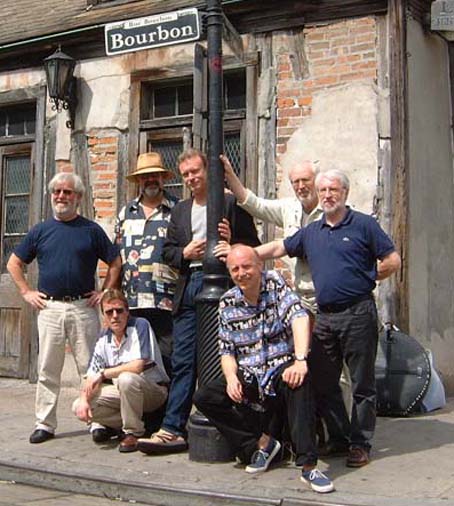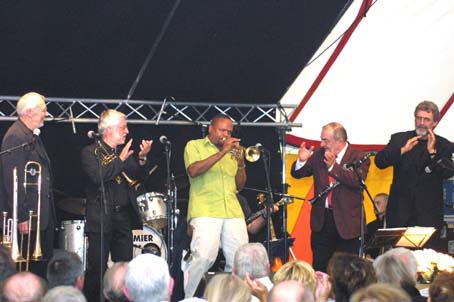 Relaterede kunstnere:
Stig Rossen: 006.139 . Swing Sisters:: 3 girls - livsbekræftende musik - Swingsisters - 0341.06125 . 0343.06: Tina Siel - Nordjysk sanglærke . Bjørn og Johnny - far og søn koncerter . Trine Gadeberg: 1 meter og 63 centimeters urkraft - Pop- og musicalsangerinde med komisk talent
The New Riverside Jazz Band CD
"And About Time Too"
Bourbon Street Parade : Collegiate : Big Butter And Egg Man : Black Cat On The Fence : Beale Street Blues : Bugle Boy March : Hello My Honey : Lily Of The Valley : Milenburg Joys : Maryland, My Maryland : Bouncing Around : Black Mountain Blues : Dusty Rag : Blues My Naughty Sweetie Gave To Me : Creole Love Call : Miss Jenny's Ball : Ole Miss : Ice Cream : Get Out Of Here : Cakewalkin Babies From Home

As a group, they've spent several years on Burlington's music scene, and "Subourbon Street" brings together the many years of experience of its individual members to play some hot, traditional New Orleans Jazz.
They've played at many local (and not so local) venues and are looking forward to playing for many years to come.

"On Bourbon Street " showcases the traditional jazz that first made New Orleans famous. Stripling, who was chosen for the lead role in the Broadway musical Satchmo about the life of legendary trumpeter Louis Armstrong, is well-known for his ability to alternately sing and play tunes in the Armstrong style that typifies New Orleans jazz.

Although New Orleans' traditional jazz scene had many top players in the 1950s, there was no one center for the city's veteran greats to play. In 1961, local art dealer Larry Borenstein opened a building in the French Quarter called Preservation Hall. The young tuba player Allan Jaffe ran the hall and organized tours for the musicians who often performed there, naming the band after the venue. In the Hall's early days, the key musicians included, at various times, trumpeters Kid Thomas Valentine, Punch Miller, or De De Pierce; trombonists Louis Nelson or Jim Robinson; clarinetists George Lewis, Albert Burbank, or Willie Humphrey; and pianists Joseph Robichaux, Billie Pierce, or Sweet Emma Barrett. By the early '70s, trumpeter Percy Humphrey, his brother Willie on clarinet, and trombonist Jim Robinson (who, after his death in 1976, was succeeded by Frank Demond) usually comprised the front line. The deaths of the Humphreys and Percy's occasional fill-in Kid Sheik Colar in the mid-'90s signalled more lineup changes. Four decades after the group's genesis, The Preservation Hall Jazz Band continues to honor the musical traditions of New Orleans, despite these switches in personnel.

It will be held at 3 p.m. April 9 in the Hilbert Circle Theatre on Monument Circle . Tickets are $20, $15 and $10, and can be obtained through the Purdue box offices, (317) 494-3933 or (800) 914-SHOW.

"Byron Stripling, with his jazz background, brings a different twist to this concert than the Broadway fare we've done before," says Jay S. Gephart, conductor of the Purdue Symphony Orchestra and organizer of the concert.

Elite CD 9522012 (2CD) New Orleans-Mississippi-Dixieland-Festival
1. CD:

1. Canal Street Jazz Band: Creole Jazz - 2. Lake City Stompers: Basin street Blues - 3. The Old Veterinary Jazzband: Creole love call - 4. The Veterinary Street Jazzband: St. Louis Shuffle - 5. Lake City Stompers: Lazzy river - 6. Canal Street Jazz Band: American Patrol - 7. Two Banjo's Jazzband: Alabama Jubilee - 8. Lake City Stompers: red beans and rice - 9. Lake City Stompers: Savoy Blues - 10. Bourbon Street Jazzband: Tin Roof Blues - 11. Willie Lewis & his Negro Band: Baby ain't you satisfied - 12. The Black Yard, Tub Jug & Washboard Band: At the Georgia camp meeting (live) - 13. The Veterinary Street Jazzband: Ain't gonna tell nobody - 14. Bourbon Street Jazzband: New Orleans Shout - 15. Bourbon Street Jazzband: Waiting for Robert E. Lee - 16. The old Veterinary Jazzband: Snag it - 17. The Dry Throat Fellows: red hot Band - 18. Canal Street Jazz Band: El Abanico

On Bourbon Street ' concert April 9 in Indianapolis

The third annual Boiler Musicmakers on the Circle concert in Indianapolis on Sunday, April 9, offers a musical trip through the jazz heart of old New Orleans in "On Bourbon Street."

The concert, which serves as a fundraiser for Purdue's Science Bound program as well as music on the West Lafayette campus, features the Purdue Jazz Band, Purdue Symphony Orchestra and singers from Purdue Musical Organizations along with guest trumpeter Byron Stripling.

Bob Ringwald (piano, vocals, leader)
Bob is a multi-talented musician who has formed and led several bands including the Great Pacific Jazz Band in Los Angeles and the Fulton Street Jazz Band of Sacramento, California. From 1970-1973, he was the intermission pianist at Turk Murphy's famous San Francisco night spot, Earthquake McGoon's. From 1979 to 1995, he hosted and produced Bob Ringwald's Bourbon Street Parade, a weekly Jazz radio show on KCSN FM in Los Angeles. In 1998, Bob appeared in the movie Twice Upon a Time with his daughter, actress Molly Ringwald. In that year, he also rejoined the Fulton Street Jazz Band after a twenty-year absence. Bob took over as leader of the FSJB on October 28, 2005.

Né il y a bientôt deux ans dans le pays de Vaud, ce Bourbon Street Jazz Band bien romand est parti sur les chapeaux de roue sous la houlette de Jacky Ramoni, trompette, saxes, kazoo et vocal, et avec: Michel Panchaud au trombone, Daniel Gindrat à la clarinette et aux saxes, Brenno Broccadoro au piano, Michel Rod au banjo et au vocal, Philippe Dony à la basse à vent, et Jean-Jacques Chabloz à la batterie et au vocal. Sept solistes se délectant aussi dans l'improvisation collective, bonne humeur, fougue et bon vieux jazz, vous trouverez tout cela chez le Bourbon Street Jazz Band

Bolton's Bourbon Street Roof Raisers, led by Big John Percival's powerful presence on trumpet, entertained the ever increasing numbers who are returning to enjoy the jazz and ambience at a venue which breeds warmth and friendship.

All the bands love it and ask that we 'keep them in mind for the future'. That is not to say the financial stability has been achieved, but I am optimistic that we are moving in the right direction.

After a slow start from the seven piece outfit, we were treated to some own band arrangements of numbers like Bechet's 'Fish Seller', 'Come Back Sweet Papa' and the collaboration of Ted Watton's clarinet and Alan Riley's guitar in a very different 'New Orleans'.

"While the show was excellent, there were few surprises .... The surprise was Iron Mike Curtis who is a one man band..."
Southland Blues review of the Blues Harmonica Blowdown at the House of Blues featuring Rod Piazza, James Harman, Billie Boy Arnold, Bernie Pearl/Harmonica Fats, and Flat Top Tom and his Jump Cats.
... sound like they were being done by a full-blown hard driving blues band with Curtis blowing forceful harmonica and singing in a thick, soulful voice..... tough, no nonsense blues.... plays harmonica as expressively as Larry Adler... His versions of "What's Goin' On" and "Billie Jean" are done as surprisingly good harp instrumentals and the Brubeck medley really shows off Curtis' instrumental prowess. The "one man band" thing is far more than a gimmick in Curtis' hands.

The Funky Butt Jazz Band - Happy Music for Happy People!
In the fall of 2004, the leadership of The Funky Butt Jazz Band was passed on to the next generation as original co- leader and cornetist, "Pete" Campbell retired from the band after 32 years. Pete's son, Pierce Campbell, and Tony Pasqualoni, the band's longtime bassist, have joined together to orchestrate the FBJB's future. With Pierce on banjo and vocals and Tony on bass, the new rhythm section provides a fiery backdrop for the band's front line of trumpet, clarinet, sax and trombone. Together they reinforce the FBJB's commitment to the traditions of America's original music, Dixieland Jazz, New Orleans style!

ALBANY - The key ingredient of the Preservation Hall Jazz Band is, of
course, preservation. For the past 45 years, PHJB has been devoted to
keeping alive the traditional jazz music of New Orleans and passing it on to
new generations. And that's just what the band did on Sunday night in concert at The Egg.
Or did it?

Named after a famous New Orleans dance hall, the FBJB was born on July 14th, 1973, when Pete Campbell gathered musicians at his house to play traditional jazz under the general sponsorship of the Connecticut Traditional Jazz Club, Inc. At that time, the Connecticut Traditional Jazz Club promoted Dixieland by bringing bands to Connecticut from New Orleans for their concert series. Musicians would stay at the Campbell's house while performing and impromptu jam sessions were the order of the day on Saturdays and Sundays. It was during this time that Pierce was exposed to many of the living legends of New Orleans Jazz.
Her kan du se en liste over vore kunstnere inden for jazz og swing:
All-time Jazz- og Swingband - lydniveautempo
Almost Ella Jazz Trio
Arosia
Basement Jazzband
Bernadotte Swingers
Bjarke Falgren
Blaa Mandag Jazzband
Brigitte Escobar Trio
Cheese'n Wine Music - Henrik Bay - Niels Stuart - Smoothjazz i verdensklasse
Danish Dixieland Band
Christian Søgaard Trio - livfuldenergimusik
Favorittes - vokalswingtrio - kontrabas
Fessors Kvartet
Frei´s Jazz
Full House - 3 musikere
Hans Knudsens Jumpband
Ib Glindemann's Orkester
Jangmark og Vinsand swingtime
Jazz Buffetten
Jazz Five
Jazzkavaleriet - gangigadenjazzmusik
- Jazznødderne: Swingende jazzmusik - krydret med vanvittige påfund og skøre indfald
JazzOBS
Jazzeau - Up-front baggrundsmusik
Jensens Jazz Serenaders
Jesper Thilo
Jordans Drive
Just Friends - jazz - swing - bossa nova
JØRGEN SVARE NEW JAZZ TRIO
Lake City Jazzband
Louisiana Jazzband sangerinden Daimi
Madam Blue's Jazzband
Majken og Fjeldtetten
Maria Emig & Tommy Garcia Duo
New Orleans Swing Band
Nissenbaum Trio
Nulle - Verdensorkestret
Onkel Dunkel
Organic3 Niels Ove Sørensen feat. Benjamin Koppel
Papa Bue's Viking Jazz Band
Poul-Erik Kreinøe's Kvartet
::Prima Junior - funnyjiveplaying::
Ramsings Orkester
Ramsings Street Paraders
Seven Up
Sigurd Barrett and The Cigars
Silver Rosendal Stompers
Singers - rf02064.2658
Sinne Eeg - jazztalentsolist
::Six City Stompers - entusiastiskt traditionelt jazzband::
Some like it hot: 6 kvinder stort swing-orkester
SWEET SUE's TRIO - En dejlig stemme, swingende evergreens - gode kendte spirituals
Swingslingers
The Barbars
The Dixieland Gypsy Band
Valdemar Rasmussen Trio - jazzformidling
Vestre Jazzværk