>Lyt til Skyband og se repertoiret<
Tilbage til forsiden med Skyband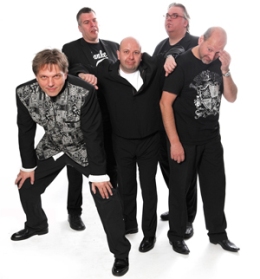 Her kan du lytte til musikken med Skyband og se repertoiret:

Medley 1
Medley 2

Musikken på denne internettjeneste er stillet til rådighed med tilladelse fra Koda og NCB.
Repertoire:

Har I bestemte ønsker til arrangementet, opfylder vi gerne dem.

Det er ofte at nogle ønsker et bestemt nummer i forbindelse med jeres arrangement.
Achy Breaky Heart
Bad Moon Rising
Angel
Bag duggede ruder
Boney M medley
Bonjour Madame
Dance The Night Away
De Første Kærester På Månen


Discoinferno


Fed rock
Fuck den kærlighed
Gasolin potpouri
Grease Is The Word
Have You Ever Seen the Rain
Here Comes My Baby
Hero
Himmelhunden
Hold me now
Hot Stuff
Hvalborg
I en lille båd der gynger
If you dont know me
If I Could Turn Back Time
Jeg vil la´ lyset brænde
Jeg Tager imod
Jeg Tænder på dig
John Mogensen medley
Just a Gigolo
Kom tilbage nu
Kærligheden brænder
La Freak
Lanternen
Lay Down Sally
Let your love flow
Lidt i fem
Long Train Runnin'
Louise
Love is in the air
Mama Mia


Mercy


Natteravn
On a long lonely night
Piu bella cosa
Ramt i natten
September
Shake Your Booty
Simply The Best
Sleepin´ My Day Away
Stand By Me
Status Quo medley
Still Got The Blues
Stupid Man
Står på en alpetop
Summer of 69
Sweet Home Chicago
The Final Countdown
Thriller
Vågner i natten
Y.M.C.A.
You Never Can Tell
Your My First, My Last
Your My Heart, Your My Soul

Billy Ray Cyrus
Creedence Clearwater Revival
Robbie Williams
TV2
Boney M
Big Fat Snake


Mavericks


TV2
The Tramps


Shubidua


TV2
Gasolin
Bee Gees
Creedence Clearwater Revival


Mavericks


Enrique Iglesias
Teddy Edelmann
Johnny Logan
Donna Summer


Shubidua


Bamse
Simply Red
Cher
Ray Dee Ohh
Thomas Helmig
Jacob Svejstrup
John Mogensen
David Lee Roth
Danseorkesteret
Fede Finn


Chic


TV2
Eric Clapton
Bellamy Brothers
Rasmus Seebach
Doobie Brothers
Bamse
John Paul Young
ABBA


Duffy


Rasmus Seebach
Sko & Torp
Eros Ramazzotti
Lizzie
Earth, Wind & Fire
K C and the Sunshineband
Tina Turner
D.A.D.
Ben E. King
Status Quo
Gary Moore
Thomas Helmig


Shubidua


Bryan Adams
Blues Brothers


Europe


Michael Jackson
Dodo and the Dodos
Vilage People
Chuck Berry
Barry White


Modern Talkin
Vi ønsker jer god fornøjelse..
Relaterede kunstnere:
::Pia Fris Lane

th - livsbetingelser - storyteller - 0235.1943::
.
Henning Kirk - Huskebogen - 0248.9802
.
0360.1801:: Peter Mygind - Om at blive et stærkt menneske
Paula Larrain - freelancejournalist - ordstyrer - konferencier - foredragsholder
.
086.111 Natasja Crone: Konferencier - dansk - engelsk - fransk
Artister
Børneaktiviteter
Børneunderholdning
Country
Danseorkestre
Diskoteker
Folkemusik og viser
Foredrag
Gospel
Jazz
Klassisk musik
Komikere
Konferencier
Kopibands
Musikere søges
Opera
Partybands
Receptionsmusik
Rock og Blues
Seniorunderholdning
Serveringsteater
Solister
Solo musikere
Street Parade
Tryllekunstnere
Nils Villemoes - forandringsforedrag - humor - ledelse
Kim Sjøgren - Professor of violin and chamber music