>Festmaskinen - english<
Festmaskinen: 4 - 5 - 7 - 9 - 11 musikere * Repertoire * Lyt til musikken * Referencer * Festnyt . Arrangementsforespørgsel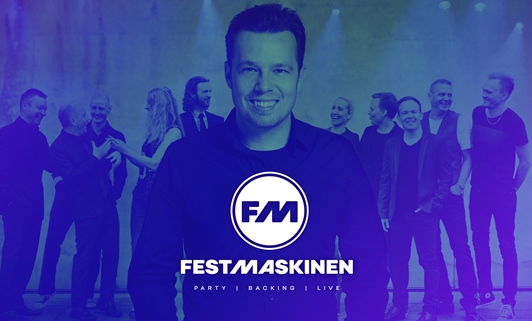 Festmaskinen is one of the country's best partybands. Has since the start in 2003 played 100 jobs a year in both on averages in as foreign countries.
The band is one of the dance-bands who put tracks!

Do Take the name completely literally, because when these top tuned, well playing and well dressed musicians start up, is it very difficult to stop them again. The night is and becomes too short, because the audience gives only reluctant let go on this popular orchestra who squeezes series with its sublime game after series of top hits' out through the loudspeakers.
We talk about a large and wide repertoire, which is tight far within the last 50 years' musical history.

The practised ones, music academy-educated musicians in Festmaskinen have played in countless connection through the years, and now they have gathered the pieces for this well-oiled Festmaskine who gives the maximal exploitation of the lads' sublime musicality and professional stage show. The musicians in Festmaskinen have among other things toured and recorded with: Michael Learns To Rock, Tintin and Hårtørrerne, Jonz, Ester Brohus, Klaus Pilgårds Orkester, Humleridderne, The Jutlandic Underholdningsorkester, Pax! Hansen Group, Hopscotch, Johnny Logan.

The band can perform in many different constellations: 4, 5, 7 or 9 men - a little for any wallet. Festmaskinen can be booked with choir girls and/or horn section.

The band can also be booked a like with an extended wind player section and a well singing soloist to croon itself through a repertoire of swing classics and Sinatra hits.
Festmaskinen can for example be booked together with Monique, James Sampson, Sanne Salomonsen, Anders Blichfeldt, Annette Heick, Lis Sørensen, Morten Remar, Ivan Pedersen, Maria Montell, Michael Carøe, Zindy Laursen or Rikke Mølgaard.

Should you wish to enjoy music during dinner?
The 5 firm musicians in the band deliver a delicious package with jazz classics and evergreens in tasteful easy listening style!

If you'd like to listen to classical music you can book the band with string quartet during the dinner. And are you completely crazy about the bigband genre, Festmaskinen provides gladly an extended wind player section and a well singing soloist to croon oneself through a repertoire of swing classics and Sinatra hits

One well-oiled Festmaskine:

5
Jimmi Riise: Leadvokal, guitar, tenor-sax, flute and piano
Klaus Lorenzen: Guitar and vocal.
Kristian Fogh: Piano and keyboards
Mikkel Riber: Bass
Kim Thomsen: Drums and programming

7
Anne Holt: Vocal
Ena Egelund: Vocal

9
Nikolaj Bøgelund: Trombone
Lårs Vissing: Trumpet

11
Michael Bladt: Tenorsax
Nis Toxværd: Baritonsax

When this team of top fit musicians from Festmaskinen who burns with drive and play-desire, take the scene in the tent, what result do you get?
Correctly guessed: PARTY!

Relaterede kunstnere:
Kim Leine - bygdkultur - familietragedie - dødsridt -0215.26191:: . ::Pia Fris Laneth - livsbetingelser - storyteller - 0235.1943:: . Henning Kirk - Huskebogen - 0248.9802 . 0360.1801:: Peter Mygind - Om at blive et stærkt menneske Paula Larrain - freelancejournalist - ordstyrer - konferencier - foredragsholder . 086.111 Natasja Crone: Konferencier - dansk - engelsk - fransk