>Tip - Tap - Tønde<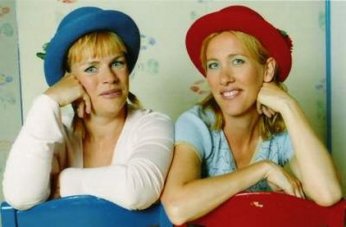 For several years, Tip Tap Tønde alias Birgitte Lillesø and Tina Rosendahl thrilled the youngest in the DR's "TV for you."
Tip Tap Tønde has a unique ability to get kids - and their parents! - To join in and be part of the show.
Here you can both meet a tough knight and a beautiful fairy but also "Circus TipTap Tønde" has some funny characters to offer.
With songs and role play that kids love and know, they tell two girls stories and adventure with characters from the minor world.
They sing, fooling and playing, so it's impossible to sit still. And the meeting with the known faces and voices bring joy to the children who love to get involved in singing and playing with people they know.

The show with Tip Tap Tøndeel suitable for both large stages, shopping malls, to corporate and private events as well as libraries.

Relateret kunstner:
0159.1701 Henrik Qvortrup . 0158.0701 - Rushy Rashid - foredragsinformation . 0243.0504 Jane Rosengren - booking forespørgsel . 0507.1901 - Arne Schumann - arbejdsmiljø - intelligensform - livskraft - mission . 280.2632008 - Kaare R. Skou - Pragmatisk politik på Christiansborg . Connie Svendsen - Glæde, positivitet, humor, impulsivitet . WTMBXfc95DxBXfcB2
Opdateret torsdag, den 31. juli 2016, kl. 13:49
Artister
Børneaktiviteter
Børneunderholdning
Country
Danseorkestre
Danseundervisning
Diskoteker
Duo musikere
Folkemusik og viser
Foredrag
Gospel
Jazz
Klassisk musik
Komikere
Konferencier
Kopibands
Musikere søges
Opera
Partybands
Receptionsmusik
Rock og Blues
Seniorunderholdning
Serveringsteater
Solister
Solo musikere
Street Parade
Tryllekunstnere