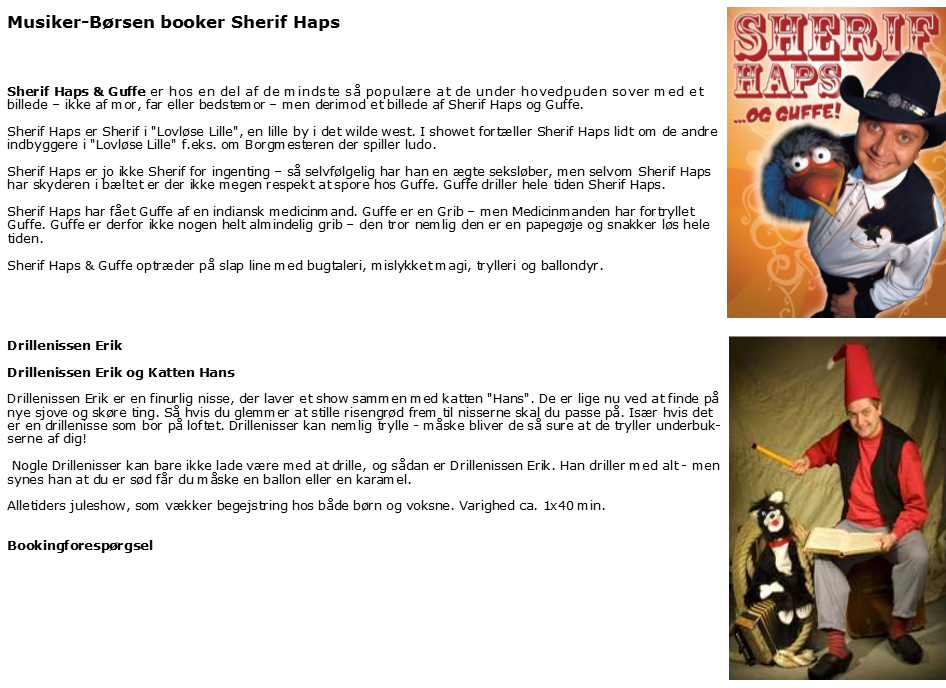 >Sherif Haps<
Sherif Haps & Guffe is observed in some of the smallest so popular that they are under the pillow to sleep with a picture - not the mother, father or grandmother - but a picture of Sherif Haps and Guffe .
Sherif Haps is in " Lawless Small " , a small town in the wilde west . In the show says Sherif Haps a little about the other inhabitants of " Lawless Small " for example . the mayor is playing ludo .
Sherif Haps 's not Sherif for nothing - so of course he has a genuine six-shooter , but although he has slider in the belt , there is little respect track at Guffe . Guffe teases constantly Sherif Haps .
Sherif Haps got Guffe of a Native American medicine man . Guffe is a grab - but the medicine man has enchanted him . He is no ordinary vulture - the really believe it is a parrot and talking away all the time.
Sherif Haps & Guffe appearing on the slack line with ventriloquism , unsuccessful spells , magic and balloon animals .
Drillenissen Erik and His Cat
Drillenissen Erik is a whimsical pixie who are doing a show with the cat "Hans" . They are just now beginning to find new fun and crazy things. So if you forget to make rice pudding until the elves be careful . Especially if it's a tease elf who lives in the attic. Tease Pixies can namely magic - maybe they are so acidic that they conjure up the pants of you!
Some Tease Pixies just can not help but tease, and that's Drillenissen Erik . He teases with everything - but he thinks that you're cute , you get maybe a balloon or a caramel .
Vintage Christmas show , that inspires both children and adults. Duration approx. 1x40 min.
Look forward to meeting drillenissen Erik and " cat Hans ".


Relaterede kunstnere:
Anne Linnet - glimt . Connie Svendsen - stewardessehumor . Grith Okholm Skaarup - Nytænk din markedsføring - 0266.1789 . Morten Jaeger - kulturinnovation - 0267.8495
Opdateret torsdag, den 28. juli 2011, kl. 12:43