>Jesper Lundgaard<
Forside/menu * Bookingforespørgsel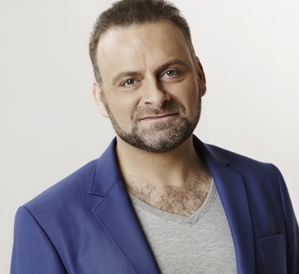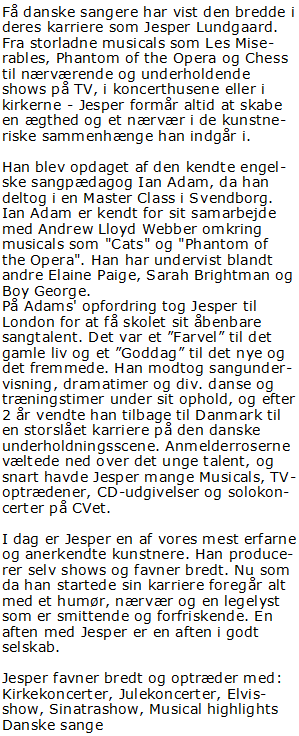 Hej Aage,

Vil du ikke nok hilse Jesper Lundgaard rigtig mange gange og sige 10000 tak for hans meget hyggelige entertainment til vores meget varme 20 års jubilæum i Moltkes Palæ d. 28.8. Vores gæster var rigtig godt underholdt. Det var en stor fornøjelse og musik og sang var helt fantastisk 

Bedste hilsener

Jette
Jette Rasmussen
JESPER LUNDGAARD ​​was born in 1970 in Silkeborg - but grew up in Lind at Herning. He comes out of a Jutland textile family on his father's side and a Copenhagen piano skinny on his mother's side .
Already in elementary school in Lind , he participated with great commitment to the choir . The musical talent was also fully in FDF , where Jesper Lundgaard beat marching drum .
When Jesper Lundgaard had finished elementary school in 1986 , led a high school stay in the U.S. for further training song . In addition to participation in the choir , he was involved in several singing competitions and won several first prizes . He also toured with the choir in Canada, and played the leading role in Rodgers & Hammerstein musical " Babes In Arms " .
After completing the U.S. tour was the 3 -year business school education, and subsequent job as a freight forwarder in 4 ½ years. In this context, Jesper Lundgaard Bachelor of transport, but the "new life " began to knock on the young Mr. Lundgaard .
Jesper Lundgaard tried in 1993 as a songwriter and record producer . This led to the album " Love of Nature " , which he published in 1994 with friends and childsavings help.
That same year he was discovered by the famous English voice teacher , Ian Adam , when he attended a Master Class in Svendborg. Ian Adam is known for his collaboration with Andrew Lloyd Webber about musicals as " Cats" and " Phantom of the Opera" . He has taught , among others, Elaine Paige , Sarah Brightman and Boy George . At Adams' request took Jesper Lundgaard to London to get schooled his obvious singing talent . It was a " good-bye " to the old life and a "Hello " to the new and the unknown .
In London Jesper Lundgaard work as a doorman at the renowned luxury hotel Athenaeum, Piccadilly. He operated stars as well as tourists, and enjoyed the thrilling contact with this world. He received singing lessons , acting classes and misc. dance and workout classes during his stay .
Jesper Lundgaard returned in September 1996 directly to the lead role of Jean Valjean in Marlene Schwartz setup of the musical " Les Miserables " at Aalborg Theatre . Reviewer roses fell into florets of the still green singer, and it was a great human experience for Jesper . He will always be grateful for the opportunity that Malene Schwartz gave him.
1997 and 1998 saw major challenges. Leading role in " Phantom of the Opera " soloist at " Want Concerto" with DR's entertainment orchestra and even a starring role in " Les Miserables " . This time at Aarhus Theatre .
In 1998 Jesper Lundgaard also CD " Jesper Lundgaard " with Aarhus Symphony Orchestra under the direction of Jan Glæsel . The record sold in 14 days 26,000 pcs. , And Jesper 's first gold record became a reality. The result was that Jesper got even busier , among other things, numerous TV appearances and concerts.
In early 1999 released his third album "Symphony For My Love" with South Jutland Symphony Orchestra, conducted by Matthew Freeman . Once again could Jesper Lundgaard put a gold plate up in your living room for the sale of more than 25,000 CDs .
When " Les Misérables " in the same year would be built in Jesper's hometown of Herning , he had the pleasure of playing Valjean - once again with great success. Moreover toured extensively Jesper Lundgaard partly to do with the English musical star Ria Jones. The year ended with a Christmas tour with South Jutland Symphony Orchestra .
2000 began with a series of successful New Year concerts with the Royal Orchestra . It was also a tremendous contribution in BBC1 's "Hit with the song " where Jesper showed new sides of his talent . While he appeared at a frantic series of concerts, he recorded the Christmas album " Jesper Lundgaard Silent Night" , which quickly achieved gold status for 25,000 copies sold. The plate contained, among other things, two great duets with Lene Siel and was followed by more than 20 Christmas concerts across the country .
Jesper Lundgaard love challenges and those he was fully facing in 2001. He was finding again with DR Sinfonietta in Tivoli in May 2001 , and he also participated in " A Sunday on the heath ." He tried his hand at dramatic talent in "Blood Brothers" at Odense Theatre and the acclaimed musical " Julius ", which toured throughout the fall . The year ended with 15 Christmas concerts around the country.
In 2002, the song Jesper role as The Russian in CHESS with South Jutland Symphony Orchestra . It was a super experience.
D. May 18, 2002 , Jesper Lundgaard married to his dear Kristina . They met during his participation in the Sound Of Music in 1994. It was a fantastic day celebrated on Hvedholm Castle on the beautiful South Funen.
April / May 2002, a dream fulfilled for Jesper . He made a tribute tour named "Jesper Goes Elvis". It had long been a desire for Jesper to sing his great idols songs. This resulted in a record release of the same name . Jesper received his first award for Elvis show - Birn Prize, Audience Award for best show at the Concert Hall Holstebro.
Along with the Chamber Orchestra he made " Hofskandalen " Tivoli is Bent Fabricius Bjerre 's new musical.
Jesper stood again as a soloist on " A Sunday on the unit & Als " . A tradition he enjoys enormously.
Christmas 2002 stood at 25 Christmas concerts incl. " Christmas Concert" tour.
2002 was also the year when Jesper Lundgaard appeared in many churches throughout Denmark . One thing which he enjoyed very much. The presence and intimacy are here in focus and keep getting organized several such concerts.
Spring 2003 saw a new audience award for Jesper Goes Elvis. This time it was Star Price from Esbjerg Music . It was with pride Jesper received this on behalf of Elvis team.
The mind's deep sides were a large part of 2003, with Jesper Lundgaard starred as Dr. Jekyll & Mr. Hyde in the musical Jekyll & Hyde in Herning Congress Centre . It was a huge challenge to play two characters in the same show. They even had a duet together ! .
Summer offered a Sunday Als and the unit and the summer TV with DR and George Musical Friends on DK4 .
On the 24th October, Jesper father of a young son , Alexander. What a joy and pride that presented itself in the mind.
Christmas Concert 2003 took place with 20 concerts together with Lene Siel and misc. church concerts .
2004, the Jesper Lundgaard out with 3 great concerts with Radio Orchestra. There was no tribute concerts to Sebastian. The concerts took place in Falconer Salen , KBH and Aarhus Concert Hall .
A new Elvis show had to come off . " Jesper Goes Elvis II " . Exuberant show with a lot of new songs from The King. In spring, large musical concert with the Aalborg Symphony Orchestra . There were statements from Hofskandalen as Jesper attended in 2003, and Musical Highlights . It was a great evening .
Jesper Lundgaard was born in Silkeborg , and it gave him therefore extra delighted to help inaugurate the new Concert Hall in the city on April 16th. Congratulations Silkeborg.
The year ended with tradition, the Christmas concert 2004. However, with the new herd. Annette Heick and Kim Sjogren gave the best way show new dimensions. Choir Good News was also the first but certainly not the last time ! .
2005 featured a new leading role in Herning Congress Centre set up Sebastian's new " Cyrano " . A wonderful musical participate in. Great dramatic challenges along the way .
Summer offers Jesper Goes Elvis concerts , concert with Chamber Orchestra ( " A Wind Orchestra " competition ) , musical concert at Liselund , Mon .
In addition, the Christmas concert 2005. This year's title " Cool Cool Christmas Tour - An adventurous journey " Great show with Jette Torp , Good News , Claus Pilgaards 6 piece band .
2006 Musical " The Blue Carousel " and Christmas concerts across the country.
2007 Musical starring role in " Jekyll & Hyde " , new Jesper Goes Elvis Show Vol III with the band Flashback , starring role as Michael Ancher in the new musical " Light Over Skagen " and finally a lot of Christmas concerts .