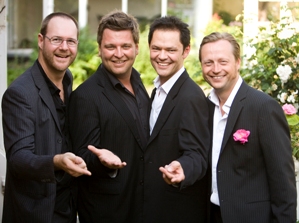 Et anderledes, men fremragende danseorkester.
Med charme og personlighed præsenterer Luke & The Skywalkers et håndplukket udvalg af hits fra 50'erne frem til 90'erne, naturligvis mikset med de allernyeste hits indenfor pop/rock genren.
Luke & the Skywalkers er velegnet til ethvert arrangement, gerne med et ungdommeligt publikum.
Orkestret består af 4 rutinerede, konservatorieuddannede musikere, der formår at komme ud over scenekanten med deres medrivende musik.
Skal der være temafest, kan der leveres alt fra Grand Prix til Beachparties.
To af musikerne kan evt. spille flot og dæmpet musik under middagen.

Repertoiret er meget stort og rummer musik lige fra de sidste nye hits og tilbage i tiden.
De prøver at tilpasse repertoiret efter det publikum de spiller for, men de kunne f.eks. finde på at spille følgende:
**Jackson Five: Blame it on the boogie, I want you back
**Sunzet: You to me are everything
**Thomas Helmig: Moon silver, Jeg tar´ imod, Det er mig der står herude og banker på, Flower child
**Le Freak: Freak out
**Lynyrd Skynyrd: Sweet Home Alabama
**Bruce Springsteen: Fire
**Gabrielle: Out of reach:
**Danseorkestret: Kom tilbage til mig, Regndans
**Sko/Torp: On a long lonely night
**Billy Joel: Just the way you are
**Big Fat Snake: Bonsoir Madame
**TV2: Lanternen
**Kool & The Gang: Celebration
**George Michael: Freedom
**Eric Clapton: Lay down Sally, Wonderful tonight
**Otis Redding: When a man loves a woman, Sitting on the dock of the bay
**Marvin Gaye: What´s going on, Mercy mercy me

You´ve got a friend, Upside Down, The Joker, Ghostbusters, Sunny, Cotton Fields, Mustang Sally, Isn´t she lovely