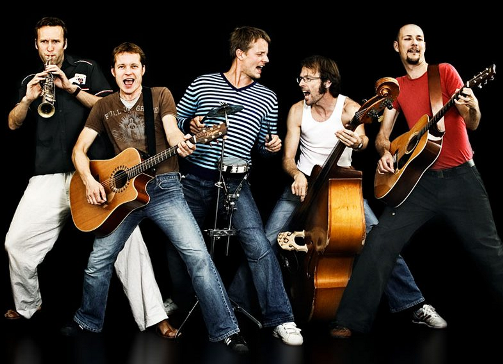 Gadedrengene blev dannet i 1995.

Gadedrengene blev på rekordtid et af de mest efterspurgte gadeorkestre ved lukkede firmaarrangementer, receptioner, bryllupper, jubilæer, byfester og lignende.

Gadedrengene har optrådt på landsdækkende TV.

Gadedrengene spiller et varieret repertoire, som spænder over de mest populære pop- og rockklassikere fra 50'erne til 1'erne.

Gadedrengene har formået at transformere den traditionelle elektriske orkesterlyd til ren akustisk lyd og bruger kun strøm, hvis det er absolut nødvendigt.

Gadedrengene er papkasse, kontrabas, guitarer, saxofon og 5 sangere for fuld udblæsning.

Gadedrengene tager på sommerturné hvert år, hvor de trykker den af i gaderne og lader hatten gå rundt.

Repertoire:
A.
Abracadabra, Steve Miller (Gm)
Another Cup of Coffee, Mike and the Mechanics (F#m)

B.
Believe, Cher (C)
Brown eyed girl, Van Morrison (G)

C.
Country Roads, John Denver (G)
Cottonfields back home, CCR (E)

D.
Don't go, Hothouse flowers (A)
Don't let me down, Beatles (C)
Don't look for love, Den Eneste Ene (A)

F.
Feel Like Making Love, George Benson (Cm)
Fire, Bruce Springsteen (C)

G.
Glemmer du, Liva Veel (C)
Good Times Bad Times, Edie Brickell (G)

H.
Heavy cloud no rain, Sting (Am)
Here comes the sun, Beatles (A)
Honky tonk women, Rolling Stones (G)
Hvis din far gi´r dig lov, Kim Larsen (G og E)

I.
I can see clearly now, Peter Tosh (G)
I'll be your baby tonite, Bod Dylan (E)
I Shall Be Released, Bob Dylan (E)

J.
Joker, Steve Miller (E)

K.
Kommer nok hjem, Nicolai og Piloterne (G)
Kom tilbage nu, Danseorkestret (Am)

L.
Lanternen, TV2 (C)
Love Me, Elvis (F)
Long Train Running (Dm)
Luka, Suzan Vega (E)
Længes hjem, Kim Larsen (G)

M.
Mercedes Benz, Janis Joplin (F)
Midnat i Europa, Thomas Helmig (G)
Min elskerinde, Danseorkestret (E)

N.
No woman no cry, Bob Marley (G og C)

O.
Oh Darling, Beatles (E)

P.
Proud Mary, CCR (A)
Purple Rain, Prince (A)

R.
Rasberry Beret, Prince (A)
Rollercoaster, Ronald Keating (C)

S.
Save Tonite, Eagled Eyed Cherry (Em)
Sitting on the dock of a bay, Otis Redding (E)
S:O:S:, ABBA (A)
Stand By Me, Ben Peters (G)
Still haven't found, U2 (G)
Suspicious Minds, Elvis (E)
Sweet home alabama, Lynyrd Skynyrd (D)
Sålænge jeg lever, John Mogensen (G)

T.
That's alright, Elvis (E)
The Weight, The Band (G)
Thorn in My Side, Eurytmix (F)
Ticket to ride, Beatles (E og G)
Tip of my tongue, Diesel (B)

V/W
Walking the Dog ? (A)
Waterfalls, TLC (D)
Wicked game, Chris Isac (Hm)
Vågner i natten, Dodo and the Dodoes (D)

Y.
You can't always get what you want, Rolling Stones (C)
You never can tell, Chuck Berry (C)

+ mange flere ..