>Klassens Tykke Dreng (Fat Boy of the Class)<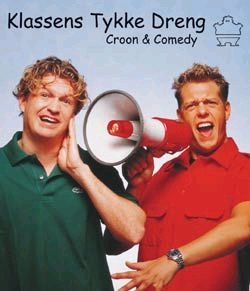 Klassens Tykke Dreng is amongst the most successful entertainers in Denmark.
Since 1998, the two young men have played their way into the hearts of many a Dane.

Why Klassens Tykke Dreng?
Boring bands can be good bands, but fun bands are just better…!
And that's why Klassens Tykke Dreng came into being.

What does Klassens Tykke Dreng play?
The show is a mixture of music and stand-up comedy, hence the name of the show "Croon & Comedy". It contains everything from Elvis to the Eurovision Song Contest, to the Backstreet Boys. All of which are in the incredibly irresistible and improvised Klassens Tykke Dreng style.
The repertoire is large and broad and as such, they can entertain any kind of audience …ANY!

What does the audience do?
The show always takes place on the audience's own terms and preferably on their reactions and comments. The show always has a loving tone and the audience always gets carried away!

Where has Klassens Tykke Dreng performed?
Klassens Tykke Dreng has performed at innumerable company jobs and of public events can be mentioned: Tivoli Plænen, European Championships 2000, Skanderborg, Langeland, Midtfyn and Roskilde Festivals.
Klassens Tykke Dreng has also contributed to a number of TV programmes on TVDK, DR, TV2 and TV3 with; for example, their own TV show of 6 episodes on DR in 2000 and most recently "Hit med Sangen" and "Robinson Expedition 2002".

A show in English!
On several occasions and with great success, Klassens Tykke Dreng has performed in English for various companies in Denmark, Norway, Holland, Sweden, France, England and Belgium!

Unconventional & Fantastic……….

Relaterede kunstnere:

086.111 Natasja Crone: Konferencier - dansk - engelsk - fransk . Nicolai Moltke-Leth - livskontrol - osteklokke - 0254.1198 . Mette Bloch - Temposnak - 0255.3758 . ::Elsebeth Egholm - Kriminalverdenen - 0255.3758