>
JØRGEN SVARE JAZZ VIBES
<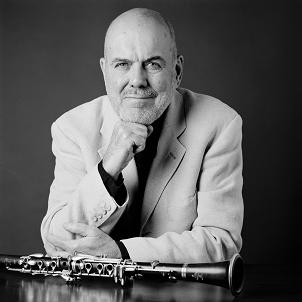 JØRGEN SVARE JAZZ VIBES BIOGRAPHIES
Jørgen Svare, clarinet – born in Copenhagen on 28.12.35 - started on clarinet in 1950 and began playing with local bands before he in June 1956 became a founder-member of Papa Bue's New Orleans Jazz Band – later known as Papa Bue's Viking Jazz Band - . For 3 decades, he played and toured all over the globe with this band of world-famous renown. He left Papa Bue in 1985 to lead own trios and quartets and played mostly around Denmark, but he also succesfully toured the Far East in Hong Kong, Bangkok, Malaysia and Djakarta. In 1995, he added former Papa Bue colleague trumpet player Ole Stolle to form the Stolle & Svare Jazz Quintet. He owned and managed Jazzhouse Slukefter in Tivoli Gardens, Copenhagen from 1994-97. After Ole Stolle's demise in 2004, Jørgen Svare pursued a free-lance career home and abroad a.o. with the Danish-Icelandic trio Svare/Thoroddsen, with whom he made 2 CDs in 2003 and 2005 respectively. He carried on playing with the trio and the quartet, and in 2015 he decided it was time to try a new concept and went to Benita Haastrup and her famous trio DrumDrum to ventilate the idea.This was positively accepted and the quartet was named Jørgen Svare Jazz Vibes. Jørgen Svare has recorded most prolifically over the years – more than 70 albums – 1300 titles – mostly with Papa Bue but also 14 CDs in his own name, and CD number 15 will be recorded in autumn of 2015 with the new quartet.
Click here for more information www.jazzvibes.dk
Benita Haastrup, drums and percussion – born in Copenhagen on 07.10.64 - has studied with Ed Thigpen at the Rhythmic Music Conservatory in Copenhagen. Received the Ben Webster Prize in 1998 and won the Danish Music Award as the Children's Jazz Artist in 2012.
During the years, Benita has played toured with countless musicians abroad and home a.o. Count Basie alumnus Richard Boone – who spent his last years in Copenhagen – Johnny Griffin, Andy Sheppard and 16 years with violinist Finn Ziegler's group. Also band member of the Danish all-female band Sophisticated Ladies.
Jens Skou Olsen, bass player – born in Copenhagen on 15.08.62 – also plays violoncello and electric bass. He has for more than 30 years – by the way his professional debut was with Jørgen Svare Jazz Quartet in 1985 – laid down a steady and deep bass floor playing, touring and recording with a.o. Lee Konitz, Horace Parlan, Harry Sweets Edison, Finn Ziegler, Jørgen Svare and Kenny Drew.
Kaare Munkholm, vibraphone player - born in Copenhagen on 22.03.66 - has played with a wide range of Danish and international artists a.o. Peter Erskine, Gustav Ljunggren, Peter Bastian, Poul Dissing and Malmø Symphony Orchestra.
He graduated from the Rythmic Music Conservatory in Copenhagen in 1992 and is now also teaching at the very same institution.


Da klarinettisten JØRGEN SVARE i 1985 forlod PAPA BUE´S VIKING JAZZ BAND efter 29 års tro tjeneste, dannede han en trio i det klassiske format med piano og trommer. Et koncept ofte benyttet af 1920´ernes jazzklarinettister og især kendt fra den trio, som Benny Goodman havde i midten af 1930´erne med Teddy Wilson og Gene Krupa. Til dette formål overtalte Jørgen Svare det unge talent SØREN KRISTIANSEN fra Ærøskøbing til at komme til København for at spille piano med trioen. Bag trommerne sad en gammel bekendt fra det traditionelle jazzmiljø i 1950´erne og 1960´erne, LEIF "JO-JO" JOHANSSON.
Trioen fik stor succes og spillede i begyndelsen fast på de københavnske insteder såsom Café Victor og Palæ Bar og var som sådan i historisk perspektiv stærkt medvirkende til at igangsætte det i dag så velkendte musikmiljø på de allestedsnærværende caféer.
Senere i 1990´erne blev trioen til både kvartet og kvintet (med Ole Stolle på trompet), og Ben Webster prismodtager (1992) Søren Kristiansen dannede også i 2000 sin egen succesfulde trio med Thomas Ovesen, bas, og Mikkel Find, trommer. Leif Johansson var i mellemtiden blevet leder af kulturhuset "Pakhuset" i Nykøbing Sj., og Jørgen Svare forfulgte en karriere som solist i ind- og udland bl.a. med den dansk-islandske trio SVARE/THORODDSEN, med hvem han indspillede 2 CDer 2003-2005.
I 2004 udgav Jørgen Svare sammen med Olufsen Records nogle hidtil uudgivne indspilninger fra en live-koncert i 1986, som fik en af de sjældne ♥♥♥♥-anmeldelser af Boris Rabinowitsch i Politiken. Tanken opstod så, at det kunne være interessant igen at prøve kræfter med dette koncept. Trioen under navnet JØRGEN SVARE NEW JAZZ TRIO genopstod da for et par år siden og eksisterer nu i bedste velgående. I marts 2006 gik man så for første gang i et studie og indspillede en CD, som udkom på Olufsen Records i maj samme år.
Relaterede kunstnere:
Le Freak: Happy disco - 0536.121 . 079.753 The Party: DK's fedeste coverband . Thomas Helmig Jam: 4 wuznip'e . Bakkesangerinder