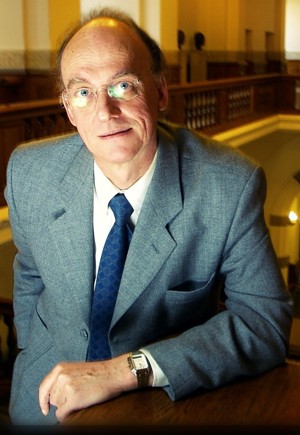 Kaare R. Skou

Former political editor at TV 2, journalist and author

Not without reason, Kaare R. Skou and his lectures some of the most
popular when the topic is politics - whether the target group are experts or else interested. 30 years experience as a journalist gives something
to talk about. Although Kaare Skou are retired now, he follows an active and inquisitive in today's politics. He manages to entertaining and sharp way to make today's politics in relief. Kaare R. Skou lectures typically create full houses for open events.


Kaare R. Skou's former political editor at TV2 and has written several
books on parliament and political history, and in his writings poured out of his experiences in the corridors of power, whether it was from Christiansborg, the radio news and since the TV 2 below Prime Ministers Anker Jørgensen, Poul Schlüter, Poul Nyrup Rasmussen, Anders Fogh Rasmussen and Helle Thorning-Schmidt.

In the fall of 2016 published the books of Power blindness about the corrupt Attorney P. A. Alberti, who betrayed the peasantry for what today corresponds to billions, and Law and Land of the Constitution agree political history from Jyske Lov in 1241 to the EU's Lisbon Treaty and Britain 'brexit'. He has previously written the People's Rule in work (1995) on policy rules, Democrats' history of Denmark (1999) Dramatic day in democracy (2001), the great political lexicon Danish policy AZ (2005), the popular tale Country directing (2008) the people the regime's history of Countess Danner Anders Fogh and Policy that transformed Denmark (2012), which is the history of the 65 most important laws of all time.


Kaare R. Skou is undoubtedly one of the greatest authorities in terms of life at Christiansborg Danish policy from the Constitution of 1849 to the present. It was also he who 'invented' the journalist's role as a political commentator.

Danish policy now
The political situation right now. What talks about - and what will be talked about in the near future. The lecture puts today's politics in a historical perspective and will also include a description of the political parties and key politicians location on the political scene.


How policy develops
A lecture - or rather a causerie - about everyday life at Christiansborg, the political parties and key politicians. It is the story of what happens behind the scenes when TV's lights are off and be nailed to agreements in the country. We get the answer to how politicians are pregnant when they are not in the parliament hall, why church committee can be interesting where the real political battles fought, and what happens when the Minister of coffee.

Large women in Danish politics
A popular tale of women in political life and the fight for equality. We begin by Louise Rasmussen - better known as Countess Danner - and ends after a tour de force of people like Nina Bang and Marie Lassen with Pia Kjærsgaard and Mette Frederiksen.

The Constitution - what's in it and what is not in the

Many believe that the Constitution is a relatively thick book. In fact filling the just a few pages. But what it says on the pages and how it came to be there. The question made also, the need for a new constitution, for most of our constitution dates from 1848, when society looked quite different.

EU amazing story
A report on how the EU was created and the union creates - a French cognac seller named Jean Monnet, and how it has evolved. About superpower dreams that were hanging in the directives on front-mounted protection structures of narrow-track tractors and eventually ending up in a British exit.

The Danish reservations - hinder or benefit
The talk is about the Danish EU reservations and their history. What they mean for Denmark's position in European cooperation and for Danish society. Several have sought to get rid of them - have applied only as the euro reservation and since it was a matter Europol. The answer to why things went as they did, and where Denmark is now in the EU.


Moderator
Kaare R. Skou is a trained moderator by small and large panel discussions at meetings and conferences, both during election campaigns, in associations and in-service training courses in companies and in the public. Get a quote on this specialty.