>Helge Engelbrecht - Neighbours<
Forside/menu * Bookingforespørgsel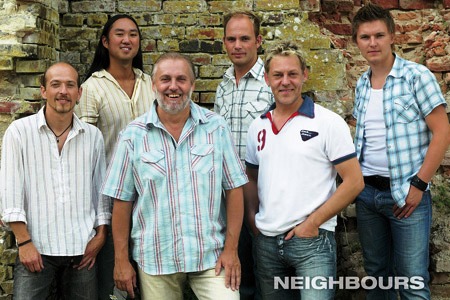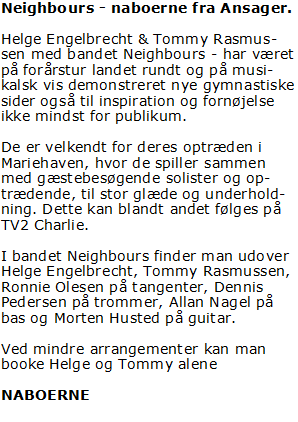 In Ansager in Jutland live neighbours Helge Engelbrecht and Tommy Rasmussen. Individually, and together they have for many years enjoyed the music as paramount interest and career in Neighbours .
In 1986 , they meet for the first time in Studio Workshop in Vejle, where saints are busy recording the following year's Danish Grand Prix winner " Hold Me " with Anne Cathrine & boys .
Tommy on the fast track with heavy rock band Skagarack Neighbours but it still time to contribute to Helge Engelbrecht GrandPrix - demo. It becomes real to kick off a collaboration that has since brought the current Ansager neighbours far and wide in the world of music .
Tommy acts as a pianist , keyboardist , arranger , engineer Neighbours and creative team player the following year on Helge Engelbrecht many diverse panel projects including Helge 's solo albums from 1988 onwards in Neighbours .
Also on the road beats Tommy follow Helge Engelbrecht Neighbours 1990 , becoming his musical " sideman " then by a number of concerts across the country with Neigbours.
In the years from 1996 to today are saints Neighbours now and then alone and often in a duo context with Tommy but now also helps sometimes guitarist Bent Warny and Helge Engelbrecht son Janus , who has thrown his musical love on bass tampered with in Neighbours .
In 1999, Tommy moved with his family from Sdr. Bjert at Kolding to Ansager and musical collaboration with Helge Engelbrecht Neighbours extended to include drummer and percussionist Dennis Pedersen in Neighbours.
For the first time seen the whole team now at concerts and on record as Helge Engelbrecht + Neighbours. Album " Life & Good Days " was the following year, 2000, followed by what Helge Neighbours even with tongue in cheek has called for his real masterpiece , namely off the CD "Absolutely Ansager Volume 1". In concert with neighbours ago now appears also pianist , keyboardist , guitarist , percussionist and much more Ronnie Olesen as part of Neighbours and the more intimate concerts from Helge Engelbrecht solotime are now more and more in contrast to concerts where there is a focus on an entire orchestra Neighbours .

The year 2001 will be a significant year , not least for cooperation between the saint and Tommy , where their appearance in the Danish Melodi Grand Prix with Helge Engelbrecht Neighbours song " Like it was yesterday " puts its toll . The nearness home in Ansager get a musical line up again sometime when both choose to focus 100% on Helge Engelbrecht in Neighbours.
A new name for the band is in talks but nothing is definite yet the way around. Kolding guitarist Morten Husted replaces in autumn Bent Warny and everyone on the team puts soul and effort into making of Helge Engelbrecht Neighbours songs with the working title " Travel Days " to become a completely new album on the borderline of something one might call " people pop music" in Neighbours.
The collaboration between Helge Engelbrecht Neighbours and Tommy also resulted in a new composition from Tommy's hand and with Helge Engelbrecht neighbours text " Everything between heaven and earth " was another participation by Danish Melodi Grand Prix a reality as the song in December 2001 was elected one of 10 from a total of 662 submitted songs. The nearness was symbolic in more than one way , as Helge Engelbrecht Neighbours and Tommy and Neighbours on DR's press conference in January 2002, the decision to continue to perform together under the name NEIGHBOURS while christened the band by the same name.
- Thus was NEIGHBOURS its official debut with Helge Engelbrecht Neighbours and Tommy's appearance in the Circus Building in Copenhagen , Saturday 9 February 2002, the Danish Melodi Grand Prix. It was not a winner - and so anyway. Or as Helge Engelbrecht Neighbours puts it : " We thought the little that we had won already just by being with Neighbours .
Helge Neighbours was not at home yesterday. He went to Copenhagen as Neighbours . And it was a bit annoying for Helge Engelbrecht could from his house in Soendergade in Ansager should have waved over to Tommy Rasmussen Grødevej and congratulated Neigbours. There are , after all, only 100 meters as the crow flies .
Musically, however, there is no distance between the 49- year-old Helge Engelbrecht Neighbours and 12 years younger Tommy Rasmussen. They have just been selected their song in Neighbours "Everything between heaven and earth " to Danish Melodi Grand Prix 2002 held in the Circus Building in Copenhagen Saturday 9 February . And thus has the chance to surpass profit , because they were , after all, finished fourth in the final with ' As if it was yesterday ', which as a welcome consolation was a big hit on the Danish top Neighbours.
Back then it was Helge Engelbrecht, who wrote the music in Neighbours, but now it's Tommy who found the song while Helge this time just the lyrics.
- It 's great , because for me , it sounds wonderful on Jutland from one half of the Absolute Ansager duo , Tommy Rasmussen, Neighbours.
- And it fits very well with that from 1 January has chosen to leave Fenders I 've played with for ten years, for just being able to play some more with Helge Engelbrecht Neighbours says Tommy Rasmussen in Neighbours, who was at home yesterday to welcome the many congratulations.
- Helge Neighbours also sent in a song , but I had all the luck with me this time . It is a slightly different song than " Like it was yesterday ." More ballad -like Neighbours. I must say that again , says the soon former piano player Fenders that or have strict ban on playing his song before the big day in February.
Grand Prize acquaintances
Tommy Rasmussen as Helge Engelbrecht Neighbours veteran of the Grand Prix genre. He thus played in the orchestra , as Engelbrecht won grandprix'et in 1987 with "A little song ," as Ann Herdorff song , but it is only now that the 37 -year-old full-time musician who comes from Kolding, but some years ago moved to Ansager, really stands on its own feet in the new collaboration with its almost resettle Helge Engelbrecht in Neighbours .
The ten songs for the Danish Melodi Grand Prix 2002, selected from no fewer than 662 entries , and it is twice as many as last year, the Danish Broadcasting Corporation. Do you still remember who won this year? It was Rollo & King with "It is a picture of you on my desk ."
Several times at the Grand prix , I have attended with Neighbours, it is actually only dawned on me a few days later that it was someone else who won . Well, joking aside . As we stood there in the Circus Building and tagged audience's reaction , it could not be much better. It touched us both deeply to feel the audience's reaction to first playthrough in Neighbours and Helge Engelbrecht, our selected speaker , was just incredible in its presentation and in its red checkered China - outfit , so when we were selected to also continue in the final round and came on the scene a second time , we could simply feel that we were close.
But it was a shared 2'den space with Luna Park boys , a couple of nice young glorious down-to -earth guys from Aalborg Neighbours. At the after party we were hailed by the press for being " the eternal dry " , which is pretty funny when you consider the many 4'de pitches I've been mixed up in.
The song from last year " as if it was yesterday " was also # 4 in Grand Prix but people remember it as if it was No. 2 Neighbours - How is there so much . " " Everything between heaven and earth " smoke quickly to Danish peak chart and reached within a few weeks to the top as number 1.
" Travel Days " is the title of the CD , as the record company CMC sends out group 6 May 2002. Helge Engelbrecht in Neighbours pull in practice and workwear ahead of upcoming tasks Neighbours among scattered concerts across the country and various radio / TV appearances also is a really efterårstur 2002 around the country . The TV spot , presented in conjunction with the launch of " Trip Days " ends with the sentence: " Neighbours - let the journey begin ." For Neighbours itself is the journey started !