>Rosa fra Rouladegade<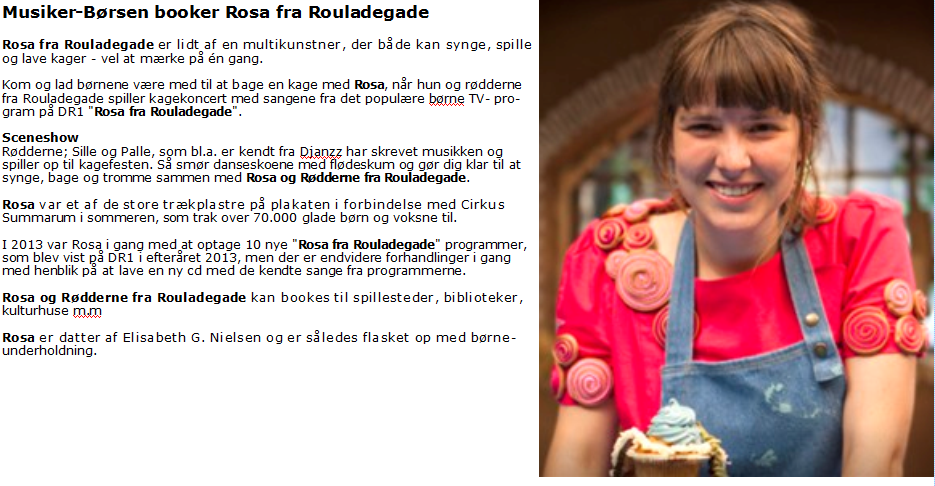 Rosa fra Rouladegade is a bit of a multi-talented artist who can both sing, play and make cakes - mind you at once.
Come and let the kids help bake a cake with Rosa when she and roots from Rouladegade plays cake concert of songs from the popular children's TV program on BBC1 " Rosa fra Rouladegade " .
Stage show
The roots ; Sille and Pallet , such as is known from Djanzz has written the music and performing out cake party. So butter dancing shoes with whipped cream and get ready to sing , bake and drum along with Rosa.
Rosa was one of the big draws of the poster in the Circus Summarum in the summer of 2011, which drew over 70,000 happy children and adults .
In 2011, Rosa started to admit 10 new " Rosa fra Rouladegade " programs , which aired on BBC1 in the autumn of 2011 , but there is also negotiating with a view to making a new CD with the known songs from the programs.
Rosa is the daughter of Elisabeth G. Nielsen and is brought up children's entertainment .
Rosa fra Rouladegade can be booked for venues , libraries, cultural centers , etc.
Relaterede kunstnere:

_-_048.188 Booking forespørgsel:: Peter Qvortrup Geisling - Lægens Bord . 1303.0810:: Lotte Heise - Meget veltalende - nærmest en "Hurtigsnakker" . Trine Sick - ordstyrer/konferencier . 0135.18 Ole Thestrup: Bookinginformation
Opdateret torsdag, den 30. juli 2016, kl. 12:49
Artister
Børneaktiviteter
Børneunderholdning
Country
Danseorkestre
Danseundervisning
Diskoteker
Duo musikere
Folkemusik og viser
Foredrag
Gospel
Jazz
Klassisk musik
Komikere
Konferencier
Kopibands
Musikere søges
Opera
Partybands
Receptionsmusik
Rock og Blues
Seniorunderholdning
Serveringsteater
Solister
Solo musikere
Street Parade
Tryllekunstnere