>Muri - Mario - Den svære 2er - book her<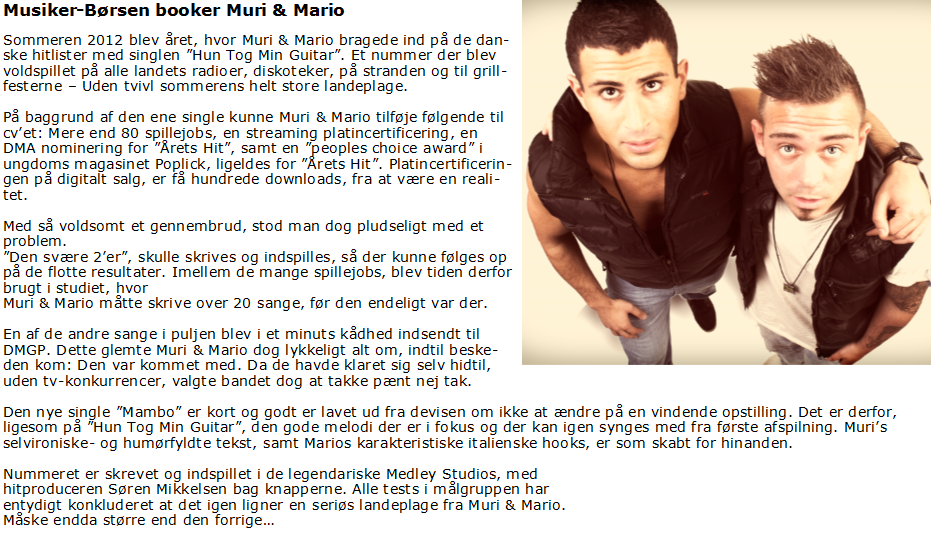 Summer 2012 was the year when Muri & Mario burst on the Danish charts with the single " She Took My Guitar " . A number were violent game on all its radios , clubs, the beach and the barbecue feasts - Without a doubt this summer's greatest scourge .
On the basis of one single could Muri & Mario add the following to the CV : More than 80 gigs , a streaming platinum certification, a DMA nomination for "Best Hit" and a " peoples choice award " in the youth magazine Poplick , also be required for " Net Hit " . Platinum certification in digital sales , is a few hundred downloads, from being a reality.
With so violently a breakthrough was however abruptly with a problem.
" The hard 2 º " had to be written and recorded , so that could be followed up at the great results . Among the many gigs , the time was therefore used in the study , which Muri & Mario had to write more than 20 songs before it finally was there.
One of the other songs in the pool was in a minute frolic posted to DMGP . This forgot Muri & Mario however happy about until the message arrived : It had come with . When they had done so far even without television contests, chosen by the band , however, to thank polite no thank you.
The new single " Mambo " is short and sweet is made from the motto not to change a winning lineup. That's why , like on " She Took My Guitar " , a good melody is in focus and there may again be sung with the first play . Muri 's self-ironic and humorous text and Marios characteristic Italian hooks are made ​​for each other .
It's written and recorded at the legendary Medley Studios, with hit producer Søren Mikkelsen behind the buttons . All tests in the target group clearly concluded that it again looks like a serious scourge from Muri & Mario.
Maybe even bigger than the previous

Relateret kunstner:
Abba Revival Band.: Atmosfæren fra ABBA's storheds tid er her endnu . Musik til bryllup - bryllupsbands fra 10.000-15.000 kr . Die Herren - in the name of U2 . DK Rocks - again . 0347.07:: Mike Andersen - Elvis Show . Gasolin' show: Gasoline - Line Münster-Swendsen . James Sampson: Beskeden soulkunstner - Booking
Opdateret torsdag, den 30. juli 2016, kl. 18:49
Artister
Børneaktiviteter
Børneunderholdning
Country
Danseorkestre
Danseundervisning
Diskoteker
Duo musikere
Folkemusik og viser
Foredrag
Gospel
Jazz
Klassisk musik
Komikere
Konferencier
Kopibands
Musikere søges
Opera
Partybands
Receptionsmusik
Rock og Blues
Seniorunderholdning
Serveringsteater
Solister
Solo musikere
Street Parade
Tryllekunstnere