>der i de næste 10-20 år vil være en markant<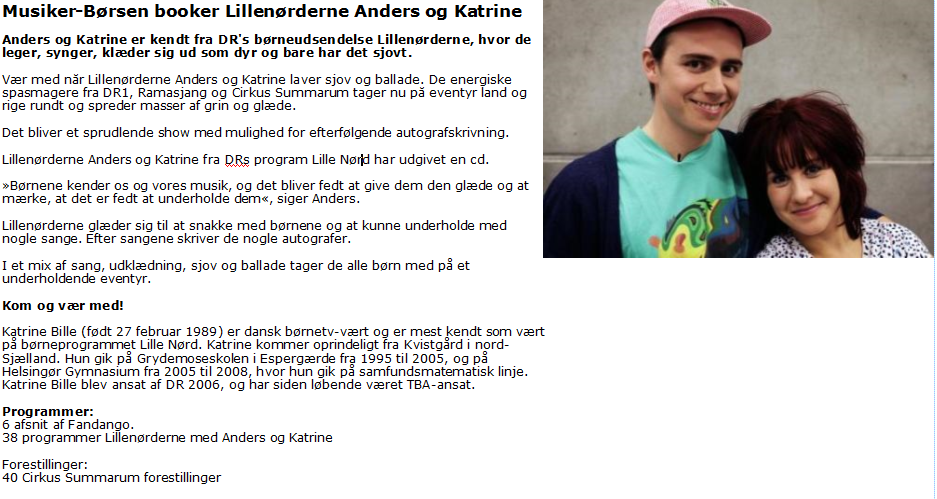 Musiker-Børsen book Lillenørderne Anders & Katrine.
Anders & Katrine is known from DR's children expulsion Lillenørderne , where they play , sing , dress up as animals and just have fun .
Join us when Lillenørderne Anders & Katrine makes fun and games. The energetic pranksters from DR1, Ramasjang and Circus Summarum now takes on adventures around the country , spreading lots of laughter and joy.
It will be a sparkling show with the possibility of subsequent autograph sessions .
Lillenørderne Anders og Katrine from DR program LIlle Nørd has released a CD.
"The children know us and our music, and it 'll be great to give them the joy and to feel that it 's great to entertain them," says Anders .
Lillenørderne looking forward to talk to the kids and to entertain with some songs. After the songs they write some autographs.
In a mix of singing , costumes , fun and games they take the children with an enjoyable adventure .
Come and join us !
Katrine Bille (born February 27, 1989 ) is a Danish children TV host and is best known as the host of the children's program Lillenørderne . Katrine is originally from Kvistgård in North Zealand . She went to pot Moses School in Espergaerde 1995 to 2005 , and at Elsinore High School from 2005 to 2008 , where she attended the community mathematical line. Katrine Bille was employed by the Danish Broadcasting Corporation in 2006 , and has since been a constant TBA - employed .
Programs :
6 sections of Fandango .
38 programs Lillenørderne Anders & Katrine
Performances:
40 Circus Summarum performances.
Relaterede kunstnere:

::Henrik Byager:: Virksomhedskultur . :.Lars Bom.: Lyt til hinanden og sig nej til mobning . :.098.18501 Susse Wold Foredragsinformation.: . :.Poul Hansen.: - Fodboldtræner
Opdateret torsdag, den 30. juli 2016, kl. 15:49
Artister
Børneaktiviteter
Børneunderholdning
Country
Danseorkestre
Danseundervisning
Diskoteker
Duo musikere
Folkemusik og viser
Foredrag
Gospel
Jazz
Klassisk musik
Komikere
Konferencier
Kopibands
Musikere søges
Opera
Partybands
Receptionsmusik
Rock og Blues
Seniorunderholdning
Serveringsteater
Solister
Solo musikere
Street Parade
Tryllekunstnere