>Alberte Winding - booking<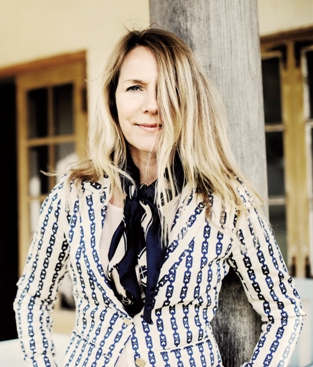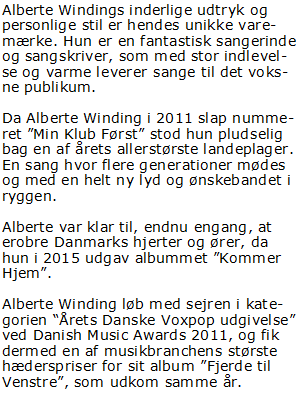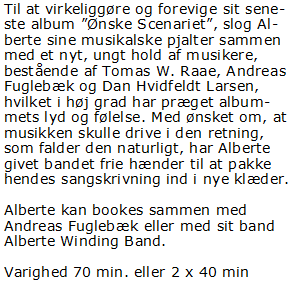 On the music side of children 's Alberte Winding biggest hit enough " Chu bang Chocolate Man " and the songs from Teddy's picture book. In addition, Alberte Winding released several CDs for adults with catchy melodies.
Alberte Winding is known and loved by children and adults alike for her music, the role of Luna in Teddy's picture book and her books for children and young people.
Alberte Winding heartfelt expression and personal style is her trademark , and the latest album " Fourth To Left " , which was published in March 2011 , she shows her home until the start of it all
- Write , compose and now also record his music.
The album serves sounding guitar pop with soundscapes from jazz and singasongwriter and recorded in Alberte's apartment in the heart of Copenhagen .
She has invited musicians on the coffee, and the music has become - The instruments are recorded in the living room and around the coffee table while the duets and Alberte Winding vocal was recorded in the bedroom.
Alberte Winding says :
" Making music is my joy in life. It will taste different and good. It will make me happy and love .
It will move me closer to a vivid imagination . It should be intense .
To get there , I moved into my own home with microphones and acoustic guitars.
It is impossible for me to be anything but honest and happy in these surroundings. "
The texts written by Alberte Winding , while the songs are composed by a number of prominent Danish songwriters.
Among other things, the hit " My First Club " which was " Powerplay of the Week " on P3 in April 2011, produced in collaboration with DJ and producer Rosa Lux .
The CD was recorded acoustically for the sake of the neighbors. It contains background noise from both the street farm, the neighbors and the home's sounds.
For example, a washing machine to dryer and coffee maker that brews , and sounds of street life outside shot with two microphones out the window ( when it rained with socks on to protect them ) .
Instead of hiding outside noise , she invited the inside and mix it high in the CD sound.

ALBERTE WINDING LIVE

In the live context, Alberte Winding and her three permanent partners ; Jan Rørdam which over the years has been Alberte's first choice on guitar, Benjamin Koppel , who has been her constant musical partner for 10 years , and Tomas Wisti Raae that is through the " Fourth To Left " .
Experience both old and new - from " My Club First " to " Bright Nights " . Alberte's live repertoire spanning her entire musical career , which started in the 80s and no doubt will continue for some time yet!
Relaterede kunstnere:

Artister
Børneaktiviteter
Børneunderholdning
Country
Danseorkestre
Danseundervisning
Diskoteker
Duo musikere
Folkemusik og viser
Foredrag
Gospel
Jazz
Klassisk musik
Komikere
Konferencier
Kopibands
Musikere søges
Opera
Partybands
Receptionsmusik
Rock og Blues
Seniorunderholdning
Serveringsteater
Solister
Solo musikere
Street Parade
Tryllekunstnere