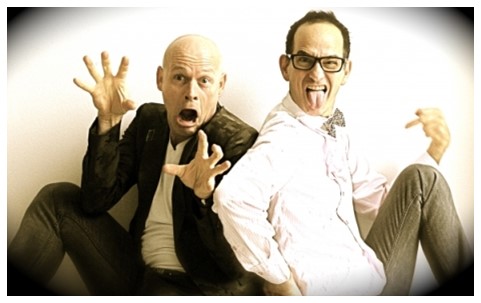 The PapkasseShow can be booked for company and club parties, receptions, town festivals, music festivals and special events.
Within 3 minutes of the Papkasse Show being on stage, laughter breaks out and all spectators bawl along to the well-known songs, which Kim Dalum and Morten Henriksen from the Papkasse Show perform on the stage with great energy and entertainment.
The PapkasseShow
is performed only on cardboard boxes and guitar – they don't need more than that to play and sing an abundance of the catchy songs from the last 30 years' hit lists. The lyrics are changed and interpreted in a fun way and the artists of the original songs are impersonated.
Everything is intermingled with strong humour, musical clowning and improvisations and lively banter with the audience.
The boys can also be enticed to perform as
masters of ceremonies
– in Danish and English!
The boys in The PapkasseShow began as street musicians on the shopping street in Copenhagen with their cardboard box and guitar. Subsequently, they began playing at music clubs, cafés, etc. Since then they have also played several times at many of the large music festivals.
The Papkasse Show is known for, among other things, the cover version of "Mona Mona", "Kylling med Soft ice…og Pølser", the football song for the World Championships in France "Los Mig Hårdt I Bollerne", "Boom Boom" - a boy band interpretation of Mabel's song from the Danish Song Contest in Parken (Denmark's national stadium).
The PapkasseShow does not deliver the same show twice as no two parties are alike and they prefer to target their shows.