>Spil'opperne - booking<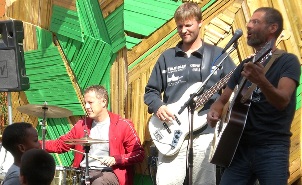 SPIL'OPPERNE - so there is something at stake
Spil'opperne® plays rhythmic children's songs - rock, calypso and bossa nova - singing and playing with kids and adults.

Children play with flap, jump and sang together with Spil'opperne - and is also involved in concert with the game on a marimba from Cuba. It is rhythmic music, play and movement - or as a girl said: 'It was as if the music from Spil'opperne came into your ear - and into the legs'.

The concert with Spil'opperne is suitable for children aged 0 to approximately 12 years - and for events for families.

The reviewers WROTE
TV2 / LORRY: ''m a genuine breakthrough in the knee'.
DR1 TV Magazine: 'Spil'opperne was a playground for children'.
B.T .: 'It's actually incredibly life-affirming to attend'.
TEACHER: 'Exuberant and cheerful - Spil'opperne with great compassion along the way'.
Teacher: 'We have 114 children who are happy to sing and dance, so Spil'opperne was a great success'.
Cand.pæd. and WRITER: 'At a concert with Spil'opperne there is something at stake. It is the joy of life that can be won '.
CHILDREN librarian: 'A very successful concert with Spil'opperne, where ALL children and adults, had 60 enjoyable minutes. Thank you'.

SPIL'OPPERNE - this experienced ORKESTER
Spil'opperne has since 1987 played school concerts, institution concerts, concerts in libraries, town festivals and festivals.

Spil'opperne among other things played at Tivoli, Langeland Festival, Copenhagen Jazz Festival, Concert Hall Aarhus, portal, Carnival in Aalborg, Brædstrup Festival, Blaabjerg Children's Music Festival, Nuuk Festival - and many other places.

Spil'oppernen among other things played in Germany and Greenland ... and has since 2000 played concerts in Sweden - with singing in Swedish.

MUSICIANS in Spil'opperne
Michael Milo Jørgensen: Guitar and singing.
Kurt Johansen: Percussion and drums.
Lars Johnsen: Electric and bass.

MUSICAL IN SKY HEIGHT - EDUCATION FOR CHILDREN
The songs played at the concert with Spil'opperne, released on CD: 'Ka' Lypso jump? - And other songs that move children.
The press wrote: 'Musical in heaven height - educational for children'.
Some of the best musicians - including Poul Halberg and Linda Andrews Holmberg is on CD
Relaterede kunstnere: