>Klovnen Martin<
Forside/menu * Bookingforespørgsel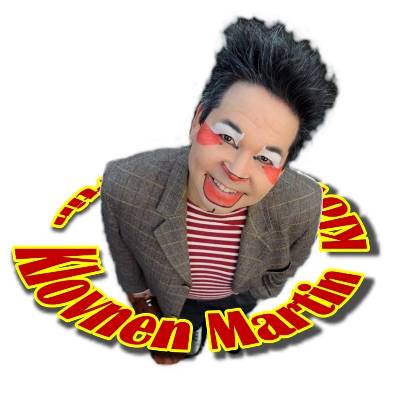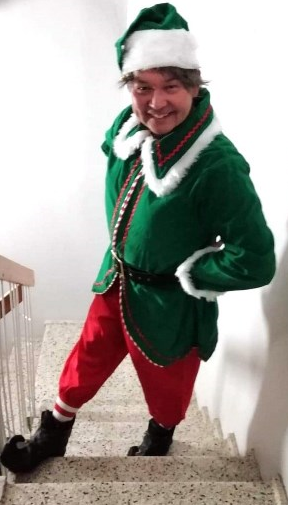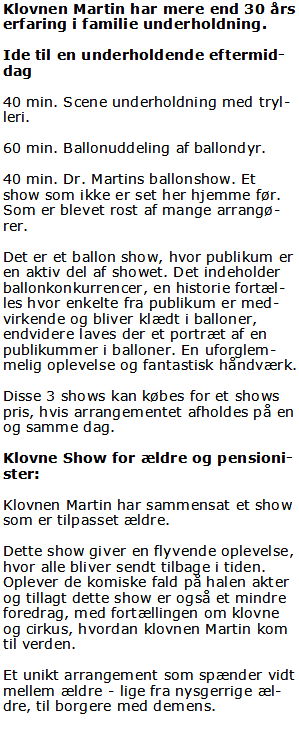 Klovnen Martin is the clown we all know from both television and the circus. He has been compared to Mr. Bean and is a good cocktail of both the traditional old clown and his own personality , he teases and curious. You can forget you even being an adult when in Martin's company.
Klovnen Martin has two shows to offer.
The first is called " Balloons according to Martin ."
The second is " Martin's BIG tease show".
1 " Balloons according to Martin " is a unique and very impressive show. The show is 40min long and the props used only balloons and all the balloons are blown by Klovnen Martin
who has been balloon skulpture over the last 10 years.
The show is a mix a great workmanship and good laughter entertainment. One of the things you can experience in the show is a production of a Peter Pan piece where all actors are dressed in balloons.
In addition, make Klovnen Martin a caricature of a spectator in balloons and then there's lots of balloon animals and balloon thing in the show .
2 " Martin's BIG tease show" is a show where Martin trying to convince his audience in that it is he who made the world and get 100 some of the explanations and evidence .
There are always some up and help Klovnen Martin on stage both trick and competitions when there is no up on the stage , he uses very visual trick that both children and adults enjoy .
Klovnen Martin gets his rabbit Frida to change color , he does snow, but Martin also know the Santa Claus.
Klovnen Martin can also be ordered as a walk-around clown where he makes balloon animals for all . Animals of the Earth is made of balloons, but also airplanes , motorcycles , racing cars , helicopters, and much more. He also mimics his audience when he walks around with gaggede paces. It's a real pleasure to see Martin in action.
Prices for each show is £ 4,000.00
A show of 2x20 or 1x40min or 3x45min balloon distribution .
As Christmas is now at the doors can also be a little extra to the gift bag . When ordering Klovnen Martin can get Santa Claus with top of the purchase, by both events are held on the same day . Santa Claus as an extra show is a 3x45min walk-around show with the distribution of sweets . Santa Claus is a copy of the original Santa Claus as shown below.
Offers for this package with the Klovnen Martin and Santa Claus is £ 4,000.00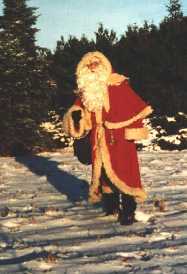 Startsiden
Artister
Børneaktiviteter
Børneunderholdning
Country
Danseorkestre
Danseundervisning
Diskoteker
Duo musikere
Folkemusik og viser
Foredrag
Gospel
Jazz
Klassisk musik
Komikere
Konferencier
Kopibands
Musikere søges
Partybands
Receptionsmusik
Rock og Blues
Seniorunderholdning
Serveringsteater
Solister
Solo musikere
Street Parade
Tryllekunstnere
Relaterede kunstnere:
0 Jesper Schwartz: Rusmiddelmisbrugs sociale konsekvenser . Henrik Dahl - forfatter - sociolog - foredragsformidling . Jens Arentzen - stresshelvede - formidlingforedrag . 0 Gitte Hornshøj:: At omgås andre mennesker - kan det læres? - 0268.0121 . Kaare R Skou - Christiansborgreporter . 0259.3978 - livsformål - 4/2-2010mb - Emilia van Hauen - booking . ::0260XZ - rap - 5/1-10/19:40:25 - Per Vers:: . 0262.1369 - vinterskøjter 11/2-10/11:31:24 - Peter Tanev

Denne side med Klovnen Martin er opdateret, onsdag, den 6. juli 2011 kl. 12.23
Her kan du se vore øvrige artister:
02005.0622 Artister
Ali Hamann
Andro
BallonCirkus - Kasper Hossy - Lars Lottrup
Benny Schumann
Cirkus Big - gøglershow - ballonklovn
Cirkus Panik - artister
Cirkus Skunk
Daniel Deleuran - 4 forskellige acts-numre for hele familien
Eric Henning
07790.1489 Fi-Fi Dong Gascopy - 100 % genbrugsgas
Joachim Solberg
Jørgen Rosland
Lars Lottrup - artist
Line Vittrup - magisk cirkus
Lone Wolf Creations - ansigtsmaling
Michael Lindegaard - bugtalerdukken Eddie
Niels Plys - familieunderholdningsforestilling
Ole Nørskov-Nielsen - hypnose - underbevidsthedens resurser
Star Magic
Stunt Akademiet
Sunny Cagara - comedymagi