>Cirkus Big<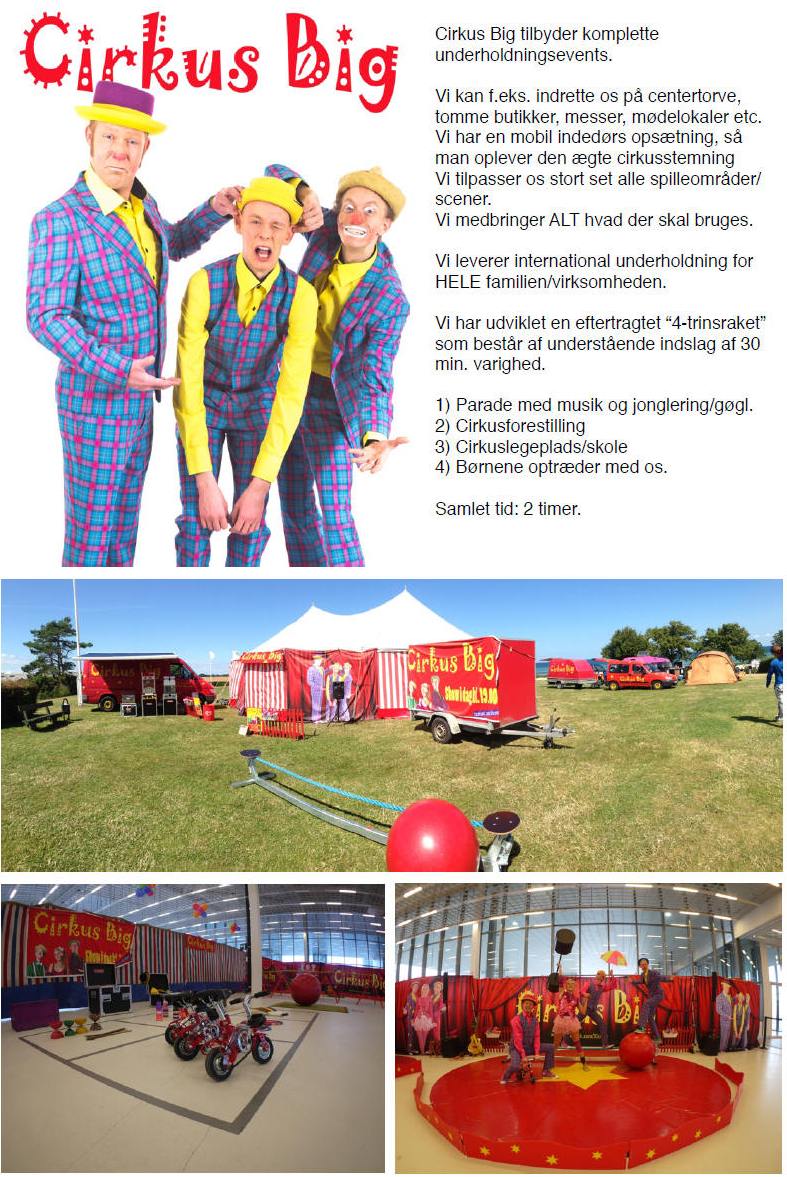 Cirkus Big started in 1998 under the name of Benjamin 's Interactive Street Cirkus Show.
It quickly became known by the acronym Cirkus Big .
Nothing is too small - Nothing is too big !
We organize events , advertising, parades, cirkuses weeks , seminars , parties, children's birthdays and classic entertainment for both adults and children.
World Position in Class
Entertainment World
What we do :
Show:
Cirkus Big offer performances for adults and children , we can put up with magnificent set design or arrive with a simple suitcase.
Solo Show - The Big Show on Bullying - The Master Clowns Show - The CirKus show .
Balloon Clown :
A clown who makes balloon animals for children and the young at heart . All kinds of animals in all kinds of colors.
Denmark's fastest Jute - over 100 balloon animals per hour .....
Work Shop :
Cirkus Big offer classes for all ages, both as team building, instruction or just as a fun break from everyday life .
Walkaround :
We have over 200 different shapes in the store and offers to make funny happenings among people . Ideal for shopping centers , markets, fairs , etc.
Cirkus Week:
We arrive Monday and together with the participants we raise our middle circus tent, which is the setting for a 5-day cirkus process that ends with a giant joint gala .
Cirkus Day:
A full day with the circus from morning to night .
An offer which includes 4 optional sets of 30-45 min . in our little circus tent inc. stand, popcorn machine , sound system and magnificent set design .
Coordinator Service:
Cirkus Big offer coordinating events , festivals and celebrations , so as hosts / organizers have visibility to concentrate on the guests / customers.
Kids :
Book a birthday party complete with birthday cake , muffins, fruit bowl , bouncy castle , drinks , table setting in our small tent , which is further filled with circus , cirkus playground, group photo in circus costumes and misc. Games organized in consultation with the clown .
Relaterede kunstnere:
Puk Elgaard - Temaet er "Karriere" . Gitte Jørgensen . ::Brian Hansen:: . ::Kim Leine - bygdkultur - familietragedie - dødsridt -0215.26191:: . ::Pia Fris Laneth - livsbetingelser - storyteller - 0235.1943:: . Henning Kirk - huskebogen - 0248.9802 . 0360.1801:: Peter Mygind - Om at blive et stærkt menneske
Denne side med Cirkus Big er oprettet onsdag, den 6. juli 2017 kl. 12:17
Artister
Børneaktiviteter
Børneunderholdning
Country
Danseorkestre
Danseundervisning
Diskoteker
Duo musikere
Folkemusik og viser
Foredrag
Gospel
Jazz
Klassisk musik
Komikere
Konferencier
Kopibands
Musikere søges
Opera
Partybands
Receptionsmusik
Rock og Blues
Seniorunderholdning
Serveringsteater
Solister
Solo musikere
Street Parade
Tryllekunstnere