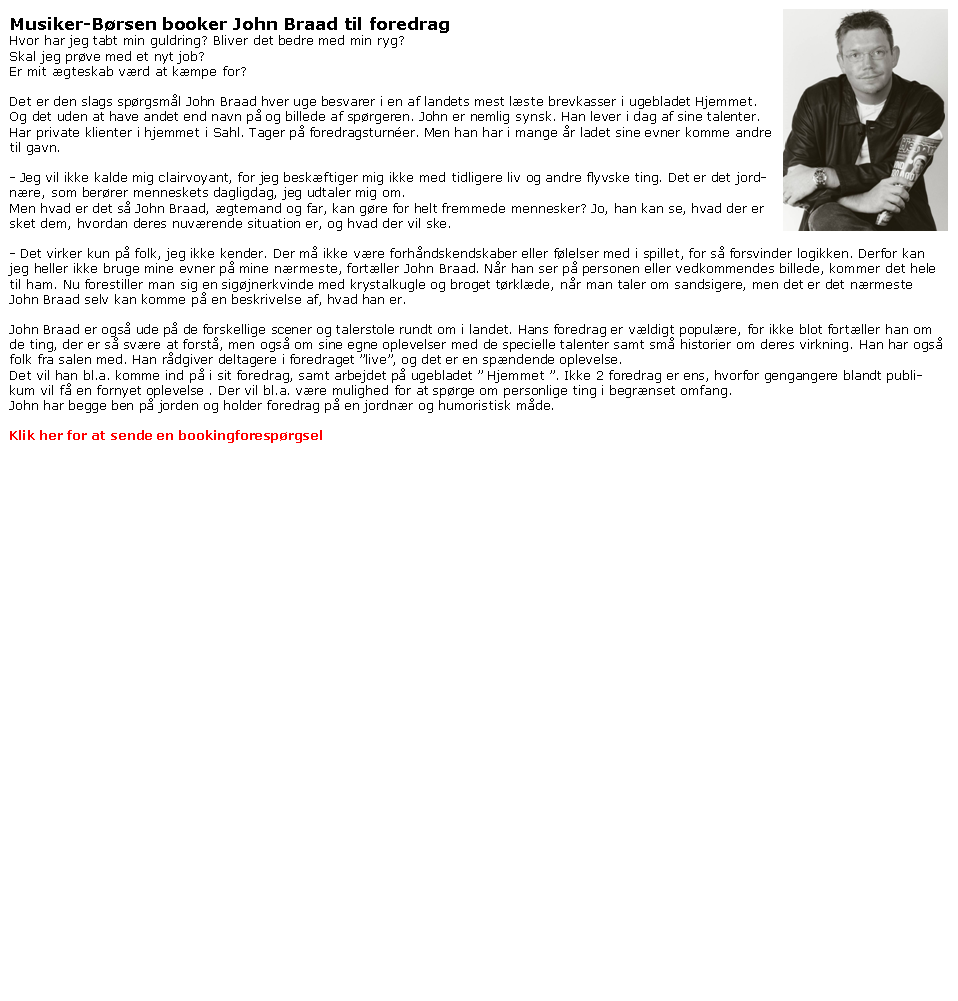 >John Braad - jordnære foredrag - formidling-bestilling<
• How have I lost my gold ring? Does it get better with my back ?
• Should I try a new job?
• Is my marriage worth fighting for ?
It's the kind of question John Braad from Sahl at Bjerringbro every week answers in one of the country 's most widely read mailboxes in the weekly home . And without anything but the name and picture of the author. John is in fact psychic. He lives today of his talents . Have private clients at home in Sahl . Gaining lecture tours . But he has many years left her skills of benefit to others .
- I will not call me clairvoyant , because I am dealing not with past lives and other flighty thing . It is the earth that affect peoples' lives , I am speaking about.
But what is it that John Braad , husband and father can do for total strangers ? Yes, he can see what has happened to them how their current situation is and what will happen .
- It only works on people I do not know. There shall be no prior knowledge or feelings in the game, then disappear logic. Therefore I can not use my skills to my closest , John Braad . When he looks at the person or the person's picture , it all comes down to him.
Now imagine if a gypsy woman with crystal ball and checkered scarf when you talk about soothsayers, but it is the closest John Braad can get a description of what he is.
John Braad is also looking at the different scenes and pulpits around the country . His lecture is awfully popular , not only he talks about the things that are so difficult to understand, but also about his own experiences with the special talents and little stories about their impact. He also people from the audience with . He advises participants in the lecture "live" and it's an exciting experience.
He will blah . enter in his lecture , as well as work on the weekly " home " . Not two lectures are the same, why ghosts in the audience will have a renewed experience. There will among others . be an opportunity to ask about personal things to a limited extent .
John Braad has both feet on the ground and give talks on an earthy and humorous way .
John Braad
He lives with his wife and 2 children living in Marburg. Since 1990 he has worked with second sight . People have approached him for answers on past, present and future. It spread like wildfire and gave rise to various articles in newspapers and magazines, and TV programs. It was no less when he was hired by the magazine " home " as letters editor , a psychic letterbox in 1994. ( Incidentally the first in Denmark ) . There , people can ask about everything between heaven and earth . John is TTF photographer and travel experience from many countries around the world. John is excluded as a vegetarian and mostly organic product. His motto "Live simply and easily " so you can afford and the time to live your life. John sting is not on facebook, have no business cards, no cell phones . He prefers instead , the personal touch .
TV:
Eleva2ren in TV2.
DK4 .
TV3.
TVsyd with its own TV program , "Ask John" a total of 26 sections.
Gomorgen Denmark TV2.
Goaften Denmark TV2.
Aftenshowet DR1 .
New Talkshow with Anders Lund Madsen.
Newspapers & Magazines
BT .
Ekstra Bladet.
Jyllands-Posten .
Here & Now .
Family Journal.
Relaterede kunstnere:
Palle Pirat Duoshow . :.Postmand Per.: Musiker-Børsen ApS . Sebastians skøre Safarishow - Sebastian Klein . Sigurds Bjørnetime - Bjørnen Bjørn . Hawkeye and Hoe: Booking . Peter Abrahamsen & Bell Pepper Boys . Rattlesnakes - Booking