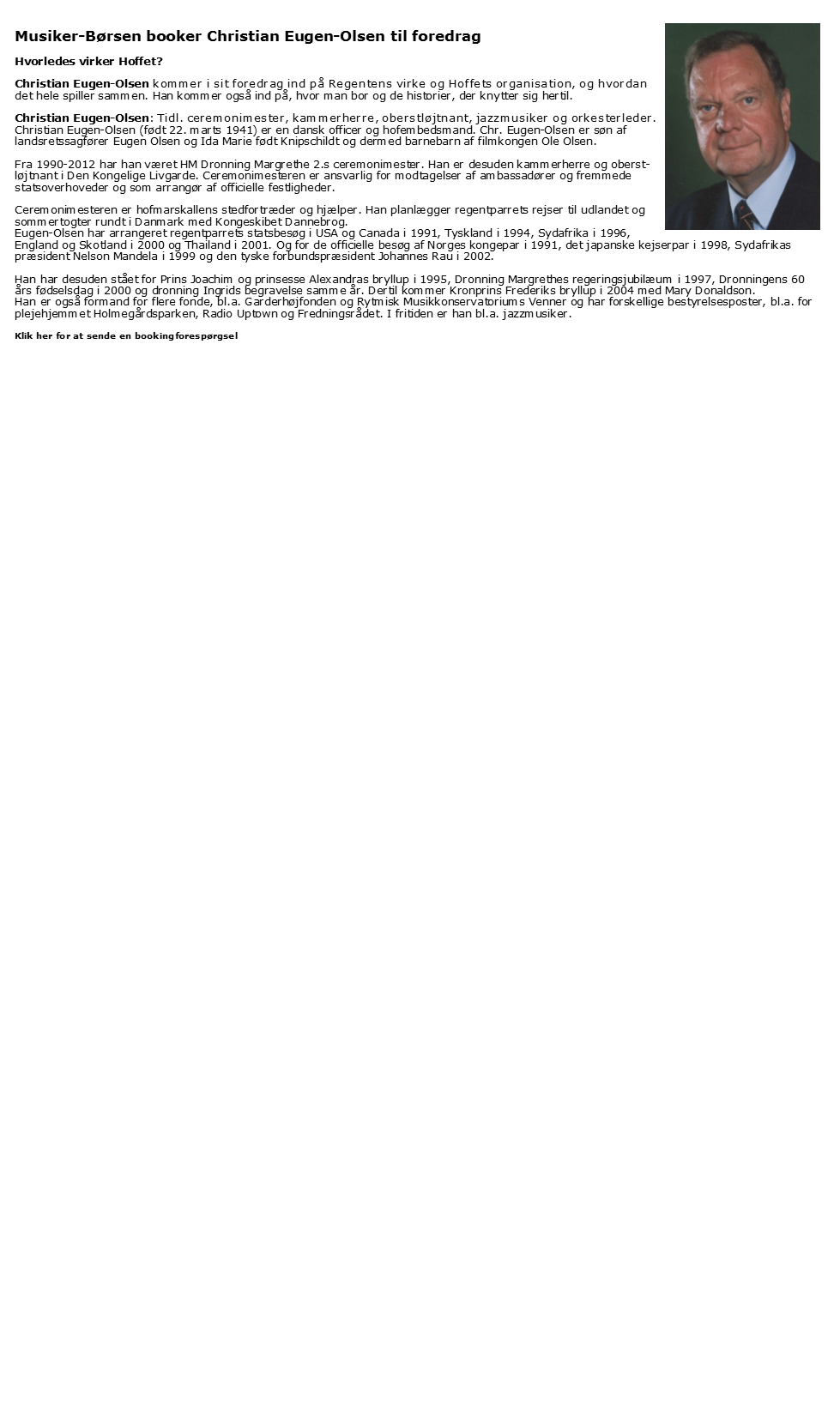 >Christian Eugen-Olsen hofembedsmandsforedrag<
How does the court on a daily basis ?

Christian Eugen-Olsen comes in his lecture into Regent's work and the court organization and how it all interacts . He also comments on where you live and the stories attached to it.
Christian Eugen-Olsen : Prev. Master of Ceremonies , Chamberlain , Lieutenant Colonel , jazz musician and bandleader .
Christian Eugen-Olsen ( born March 22, 1941 ) is a Danish officer and courtier . Christian Eugen- Olsen is the son of barrister Eugen Olsen and Ida Marie born Knipschildt and thus the grandson of movie king Ole Olsen.
From 1990-2012 , he was HM Queen Margrethe 2.s ceremonies . He is also a chamberlain and lieutenant colonel in the Royal Life Guards . Ceremony Master is responsible for receptions of ambassadors and foreign Heads of State and as organizer of the official festivities.
The Master of the Lord Chamberlain 's lens deputy and assistant. He plans royal couple's trips abroad and summer cruises around in Denmark with royal yacht Dannebrog.
Christian Eugen-Olsen has arranged the royal couple's state visit to the United States and Canada in 1991 , Germany in 1994 , South Africa in 1996 , England and Scotland in 2000 and Thailand in 2001. And for the official visit of Norway's King and Queen in 1991, the Japanese kejserpar in 1998 , South African President Nelson Mandela in 1999 and the German Federal President Johannes Rau in 2002.
He has also been responsible for Prince Joachim and Princess Alexandra's wedding in 1995 , Queen Margrethe's silver jubilee in 1997 , the Queen's 60th birthday in 2000 and Queen Ingrid's funeral that year. In addition, Crown Prince Frederik's wedding in 2004 with Mary Donaldson .
Christian Eugen-Olsen is also chairman of several foundations , including Garderhøjfonden and Rhythmic Music, Friends and various board positions , including for nursing home Holmegårdsparken , Radio Uptown and Conservation Council. In his spare time he also jazz musician.