>Rabalder - Gasolin og Kim Larsenkopi<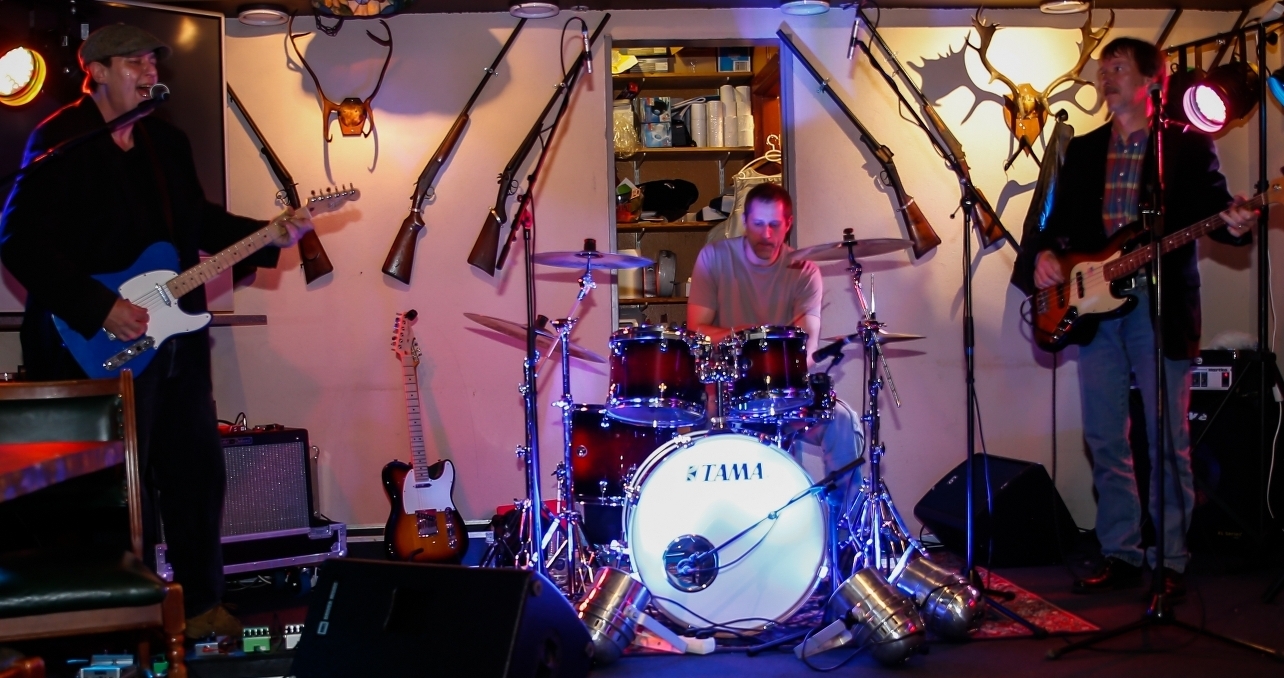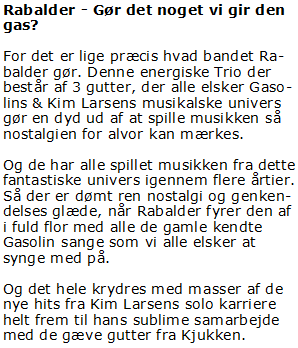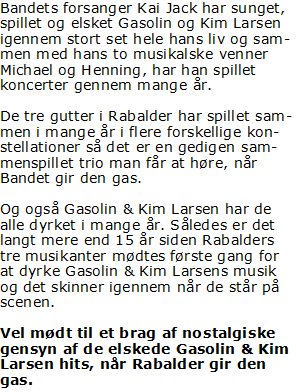 Rabalder - Does it matter that we provide the speed ?

For that is exactly what the band Rabalder do. This energetic trio consisting of three guys who all love Gasolins & Kim Larsen's musical universe makes a virtue out of playing music so nostalgia can really be felt.

And they have all played music from this fantastic universe for several decades. So convicted pure nostalgia and recognition joy when Rabalder turning it on in full bloom with all the old familiar Gasoline songs that we all love to sing along to .

And it's all seasoned with plenty of new hits from Kim Larsen's solo career right up to his sublime collaboration with the brave guys from Kjukken .

The band's lead singer Kai Jack has sung , played and loved Gasoline and Kim Larsen during most of his life and with his two musical friends Michael and Henning , he has played concerts for many years.

The three guys in Rabalder have played together for many years in several different configurations so it is a genuine interaction trio you get to hear when the band provide the speed.

And also Gasoline & Kim Larsen , they all have grown for many years. Thus, it is far more than 15 years ago Rabalders three musicians met for the first time to grow Gasoline & Kim Larsen's music and it shines through when they get on stage .

Hoping for a blast of nostalgic reunion of the beloved Gasoline & Kim Larsen hits, when Rabalder provide the speed.


Artister
Børneaktiviteter
Børneunderholdning
Country
Danseorkestre
Danseundervisning
Diskoteker
Duo musikere
Folkemusik og viser
Foredrag
Gospel
Jazz
Klassisk musik
Komikere
Konferencier
Kopibands
Opera
Partybands
Receptionsmusik
Rock og Blues
Seniorunderholdning
Serveringsteater
Solister
Solo musikere
Street Parade
Tryllekunstnere
Musiker søges

Relaterede kunstnere:

Henrik Dahl - forfatter - sociolog - foredragsformidling . :.Birthe Kjær.: 40 års jubilæum . Jens Arentzen - stresshelvede - formidlingforedrag . 0 Gitte Hornshøj:: At omgås andre mennesker - kan det læres?